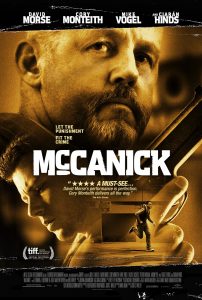 Before his untimely demise in July of last year, Cory Monteith had just started to explore projects outside of the television show that made him famous. The "Glee" star shot two indie films that were both released after his death: the first was the dramedy "All The Wrong Reasons", in which he played a department store manager; the second -- and Monteith's last -- film is "McCanick", a cop drama that's difficult to sit through for many reasons, not the least of which are the uncomfortable parallels drawn between Monteith's character and his tragic real life.
"McCanick" stars David Morse ("The Hurt Locker", "The Green Mile") as a veteran detective who, on his birthday, spirals out of control when he learns a criminal he put away years before has been released. Monteith plays that criminal, the unassuming Simon Weeks. Simon is a drug addict trying desperately to overcome both his past and his addiction, primarily by devoting his life to charity. In reality, Monteith was a drug addict who was trying desperately to overcome both his past and his addiction, primarily by devoting his life to charity: throughout his career, Monteith gave much of his spare time to Project Limelight, a foundation based in his native Vancouver that supported at-risk youth through arts education. It's easy to see why Monteith found himself drawn to this role. But no matter what the outcome may be for Simon, knowing there was no happy ending for Monteith imbues the entire film with a sense of morbid inevitability.
It's an unfortunate situation that director John C. Waller and writer Daniel Noah find themselves in, as they clearly weren't counting on the death of an actor overshadowing their film. However, strip away the tragedy and the viewer is left with a subpar genre film that never manages to reach the heights it aims for. As McCanick, Morse is a rock solid presence, although the structure of the film inherently prevents us from getting to know him at all. The reason why McCanick is so bent on vengeance against Weeks is preserved as the film's main mystery and only revealed in a final-act twist. Unfortunately, this means that for the majority of the film, our protagonist is a motivation-less enigma. It's impossible to know him, and by the time we do, it's too little too late. The split narrative (the film is full of flashbacks to when McCanick first encountered Weeks) does what it can to keep things interesting. But by not providing any insight into its own lead character, the film becomes as mechanical as its name suggests.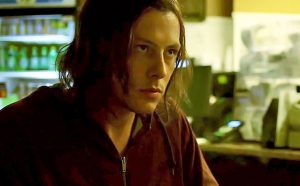 Ciarán Hinds ("Game Of Thrones") as McCanick's frustrated boss and Mike Vogel ("Bates Motel") as his wunderkind partner fare better than Morse, if only because we're allowed to actually get to know their characters. But despite its title, "McCanick" belongs squarely to Monteith. As bumbling quarterback Finn Hudson on "Glee", Monteith was the rock of that show, grounding the often over-the-top stories with his goofily affable presence. It was a deceptively simple performance that often didn't get enough credit for the palpable pain and insecurity that too often ran underneath the jock's seemingly solid exterior. Simon Weeks is like Finn Hudson stripped to the bone. Weeks was never the popular kid, never the star of the football team, never the leader of a glee club. So there's nothing there, no false bravado or manufactured mask to hide the wounds inflicted by a life on the streets. It's a raw and honest performance, delivered in a quietly understated manner that's all the more surprising for coming out of Monteith's hulking 6'3" frame.
It almost doesn't matter how good or bad the film is when the singular moment audiences are most likely to remember is the sight of Monteith cowering on the floor, whimpering the words "I don't want to die." The specter of the actor's fate hangs over the entirety of the 96-minute running time. Monteith probably wouldn't have been the next Brad Pitt, but in his last two films he was certainly taking his first tentative and exciting steps into a diverse film career. The premature loss of Monteith's potential echoes through the film's pervasive themes of regret and consequences; these parallels, while unintentional, lend the film a gravitas it would otherwise have been lacking.
You can see "McCanick" at the City Cinemas Village East starting tomorrow.