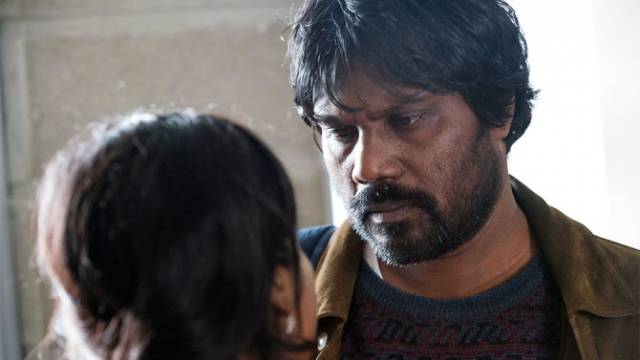 The most genre-inflected Palme d'Or winner of the 21st century, Dheepan brings director Jacques Audiard's brash but nuanced aesthetic to bear on a tragic tale of immigration. Former Sri Lankan guerilla Dheepan (Jesuthasan Antonythasan, himself once a Tamil child soldier) seeks to escape the violence of his homeland, which he participated in and has cost him his family, and start anew in France. However, to emigrate he must take on a new identity and a new family to pass customs.
Along with his fake wife Illayaal (Kalieaswari Srinivasan) and nine year old Yalini (Claudine Vinasithamby), Dheepan travels to France where he tries to make a living. First selling trinkets on the street and then as the caretaker of an apartment complex. But due to their non-existent social status, they fall to the margins of society; the apartment block where they live and work is controlled by gangsters, and periodically erupts into violence, reawakening past trauma. Meanwhile, the three find that even if their family started as a hastily improvised sham, they still face the same pressures as real families, such as division of chores, assimilating into society, and dealing with their daughter's troubles at school. Dheepan struggles to remake himself, but in the end must embrace his violent past to rescue his family.
Audiard excels at endowing physical, inarticulate characters with soulfulness and Dheepan is no exception - all three of the leads are non-professional actors who give powerful performances. Most of the film is filmed in a naturalist style, which makes Audiard's occasional flourishes, such as an eerie shot of Dheepan emerging from blackness with light-up bunny ears upon arriving in France, all the more surprising. Dheepan does not try to elucidate or judge the larger forces at work in immigration, only focusing on the immediate issues facing the family as they try to find work and assimilate. The actors excellently show the strange dynamics at play in a family that has had intimacy forced upon them, especially for Illayaal and Yalini, who must trust Dheepan even though they lost their real families to men like him. The ending's descent into hallucinatory violence has proven very polarizing; this reviewer found it powerfully rendered in the moment, but on reflection it does undermine the character development up to that point. It seems inevitable that violence would resurface in Dheepan's life, but it happens perhaps too conveniently here, especially with the almost beatific coda.