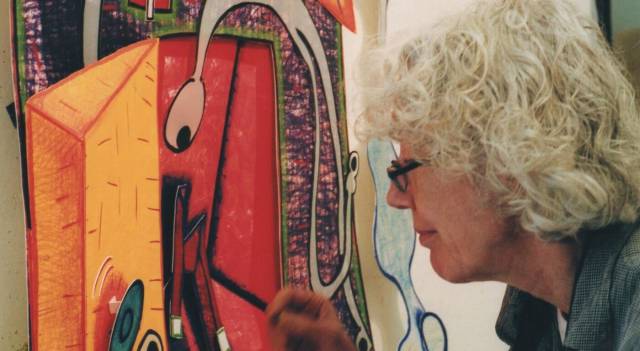 The documentary Everybody Knows…Elizabeth Murray is a rightly-due tribute where none existed before, bringing those unfamiliar with this iconoclast artist further generations of admirers. Though raised and attending art school in Chicago, Elizabeth Murray was New York City's own, having spent the majority of her 40 year career here. Her legacy and work graces the city's premier collections, with her lively subway murals found on 59th Street/Lexington Avenue station in Manhattan and 23rd Street-Ely Avenue Station in Queens. Wombs, fetuses, hearts, lips, fingers, keyholes, windows, and other recognized things float beside each other like graffiti in an aquarium. With confidence, perseverance and vision, she delivered what was not the de rigueur of her contemporaries and did so with gusto.
In the '80s her paintings exploded with a fanciful, joyous grit. Bold figures reminiscent of Keith Haring shimmied like curly lightning bolts. In some of her works, these fanciful shapes were cut and re-assembled in unexpected ways. Everybody Knows... is a bit like this, a whimsical mosaic of love-notes to Ms. Murray. From curators to carpenters cutting and building the frames of her pieces (some needing their own stretcher), we hear how her work makes people feel: "light, like the burdens are lifted and floating away… centered and hopeful." And in describing her work: "not easy to categorize," even "zany."
Running just under an hour, the film lends heavy emphasis on Murray being one of the few successful women artists where white men reign supreme. The significance of this only makes her more of a wonder, as it was not a polite equal opportunity nod that brought her such an outpouring of recognition. Her talents rose from a toughness unique to most, regardless of gender. And yet, what was it exactly about her work, so hard to define yet delightful to behold?
While the film might scratch the surface of Murray's life, it covers much ground and invites us to take a deeper look, as her work defies ordinariness and meaning-seeking. The title of the film is taken from the last sculptural piece Murray made before she died of cancer. With excerpts from the artist's journal narrated by Meryl Streep, original home footage from the family archives, and interviews with people close with the artist, Everybody Knows... provides an introduction to Murray that those new to the artist's work will enjoy.