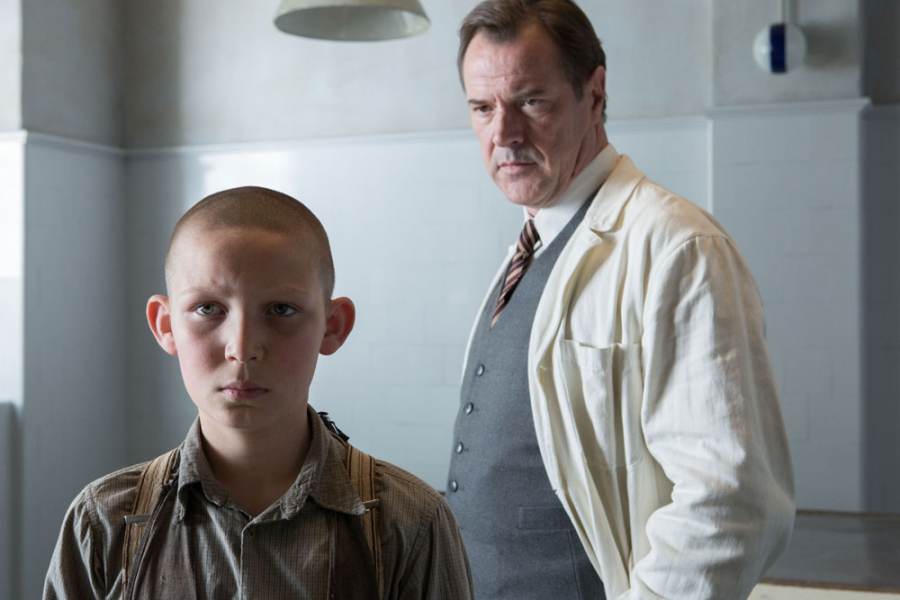 In 1942, 13-year-old Ernst Lossa (Ivo Pietzcker) is transferred from a children's home to Dr. Werner Veithausen's (Sebastian Koch) psychiatric hospital. Though there is nothing wrong with him, Ernst is Yenish and Third Reich "gypsy" discrimination along with Ernst's former facility have classified him as "anti-social vermin". Squeezed into the hospital amongst a wide span of ages and disabilities, newly shaven-headed Ernst is assigned to the fields for harvesting duties. During his incarceration, he remains self-assured, vigilant and observant of those inmates that leave the building in a truck, never to return. When Ernst's one surviving parent, his father Christian (Karl Markovics), arrives to collect him, following his release from a concentration camp, he is refused on the grounds of having no fixed abode.
Having been informed that the local community are growing ill at ease with where the trucks might be heading to, Eugenics advocate Dr. Veithausen is tasked with finding a new system of convenient euthanasia that need not leave the building. But when Sister Kiefer (Henriette Confurius) is hired to administer poison and barbiturates concealed in raspberry juice, her Angel of Death routine becomes conspicuous among the inmates and to conscientious staff nurse Sister Sophia (Fritzi Haberlandt).
Sister Kiefer's justifies her bedside manner with that old familiar injured woodland animal tale: "My father put it out of its misery. Was that wrong?" Her Stepford Wife composure, together with selected scenes featuring adults in their own company, can be a little too pristine in that they diminish an uncomfortable truth; it takes ordinary people to kill ordinary people. When Dr. Veithausen exhibits occasional tender and paternal behavior towards his patients, his repugnant deeds become all the more horrifying. He soon devises a new discreet method for the Euthanasia Program: "I've called it the starvation diet." Ever-watchful Ernst, in a bid to protect his fellow inmate and sweetheart Nandl (Jule Hermann), is determined to put up a fight. Pietzcker's performance as the rambunctious Ernst is outstanding. He possesses an untamed naturalness that is reminiscent of David Bennent's portrayal of Oskar in the 1979 film The Tin Drum, another instance of a boy's affront to WWII. Bennent is also in this film as wild-eyed, middle-aged hospital inmate Oja.
Holger Karsten Schmidt's Fog in August screenplay, directed by Kai Wessel, was adapted from Robert Domes' 2008 novel of the same name. Based on the records of a real Yenish boy, the book tells the story from Ernst's point of view. In Wessel's film, adult burdens loom large within the hospital's ashen interiors, but beyond its enclosure and through Ernst's eyes, daytime fields appear golden, while nighttime woodland, lakes and rooftop vistas take on a soft magic. Fog in August is sharper when the perspective belongs to Ernst, projecting hope and exuberance beyond the fateful Nazi gloom.