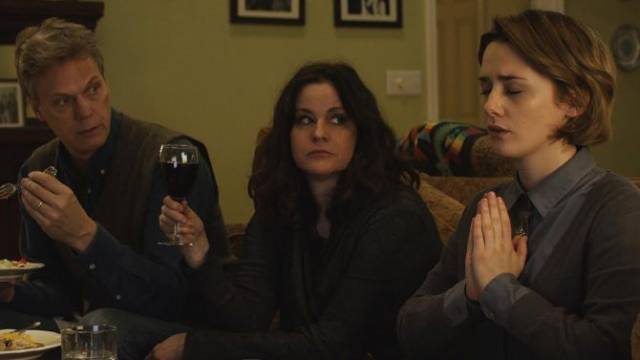 Zach Clark's Little Sister is at once wise, fun, and down to earth. It understands that in the process of finding peace in the world, people draw from strands as diverse as Catholicism, politics (the film is set on the cusp of Obama's first election), and goth culture, which is hat-tipped at the very onset with a title card quoting Marilyn Manson: "Fail to see the tragic? Turn it into magic!" The punny title refers to the protagonist Colleen (Addison Timlin), who is about to become a nun, but realizes she must first rediscover her role in the family she left behind.
Colleen is a multifaceted character that Clark cleverly reveals in stages. She's first introduced on the streets of Brooklyn, her babyface and plain clothes speaking to an out of place innocence as she gives food to the homeless. This incongruity is heightened when she attends a hilarious avant-garde play about 9/11, especially afterwards when the hipster cast gawks at her convent attire and glibly offers her cocaine. But this milieu is not as foreign to Colleen as they assume. When Colleen learns her brother is home from Iraq and she returns home to visit her estranged family in North Carolina, it's revealed that the Colleen who first left home, after her erratic mother (Ally Sheedy) attempted suicide, was an angry goth teenager. Home again, Colleen must confront the issues that drove her first to goth and then to sisterhood, although the lives of her friends and family are far more complex than she remembers. In addition, her brother Jacob (Keith Poulson) has returned from the military lionized as a hero, but horrifically scarred, having lost most of his face to an explosion, and now sits locked in his room, banging away on a drum set and refusing visitors. Clark uses the jarring music of the unseen drummer to great effect, channeling the characters' emotional turbulence and heightening tension for Jacob's appearance.
Over the course of the week and a long Halloween night, Colleen finds not epiphany but acceptance, coming to understand the burdens of people around her, as she allays their skepticism at her conversion. First and foremost is her mother, played volcanically by Ally Sheedy vacillating between an earth mother persona and flights of rage, who had kids too early in a failed attempt at escaping her own problems. This also extends to Tricia (Kristen Slaysman), Jacob's fiancée who loyally stood by him while he was away and still tries to despite his appearance and depression, and to Jacob himself, for whom Colleen must return to her goth past to cheer up, dying her hair and donning extensive makeup to sing along to a GWAR song until he reluctantly smiles.
Little Sister traverses a great deal of emotional terrain, but it does so with great humor, an oddball style, and a keen eye for the hidden depths of all personalities. Clark's characters are all searching, in many different directions, for some measure of grace. Clark doesn't cast judgment on any method, but he reminds the viewer that external change, whether political or religious, must be accompanied by interior change, a theme he shows with compassion and wit.