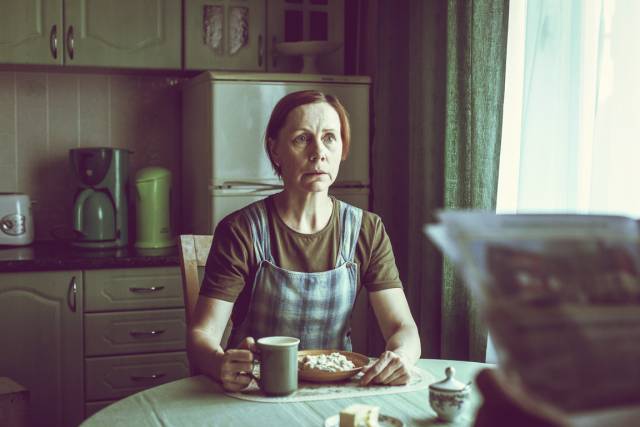 Marvelously clever from the onset, director Kadri Kõusaar's Mother soundtrack immediately clues us in with the dissonant tones perched against the harmonies. Something's fishy in this unassuming, pretty house situated in this quaint little Estonian town.
While the camera spends most of the time studying the overworked and exasperated mother Elsa (played with steely aplomb by Tiina Mälberg), the film also owes much to her son Lauri (Siim Maaten channeling 1970 Clint Eastwood's character in The Beguiled). For most of the movie, the son doesn't say much at all. He is a specter looming over the various inhabitants and visitors of the house. The procession of visits become like layers of confessions carefully arranged upon a therapist's sofa, purposeful pieces of a contained puzzle. If the small town's befuddled detective lacks penchant or skill for solving crimes, then certainly we're given a greater advantage merely by being privy to the various comings and goings in the house. The comatose son oddly possesses an Orpheus-like charm, capturing the fancy of the locals (particularly the women), and is simultaneously therapist/priest/bank. Unfortunately unable to assist or absolve those who seek his counsel, he does, by forfeiture, become the key to all their hopes and sorrows. Each of these encounters turns into an entertaining arsenal for sleuthing out the truth.
Despite the occasional comic moment, a touch of darkness slithers through each scene, making everything about Mother sympathetically wacky yet suspect. From the pineapple shirt-clad school principal's overly-solicitous flower bearing, the gothic drug-musings of a childhood friend, the emotionally-absent coach potato husband, or the weary, reluctantly compliant physical therapist, they are strange yet telling vehicles for unraveling the mystery of Mother. With little dramatic action and a lot of revealing conversations all taking place primarily within a potentially claustrophobic setting, Steven Knight's film Locke comes to mind. Similarly, the film's pace races to a high pitched end, and rightly so, satisfyingly so. It's best to see this completely unprepared, untainted by trailers, reviews or press materials.
Kõusaar's previous two feature films were little-known but daring looks at the sinewy depths of our psyche, also casting mysterious characters who reflect oddly interesting mixtures of dark and light both within and without. She has a compassionate, painterly eye for faces, and the play of repressed, haunted feelings that may ride across them. Mother may be the film that finally puts her on an A-list of directors to watch.