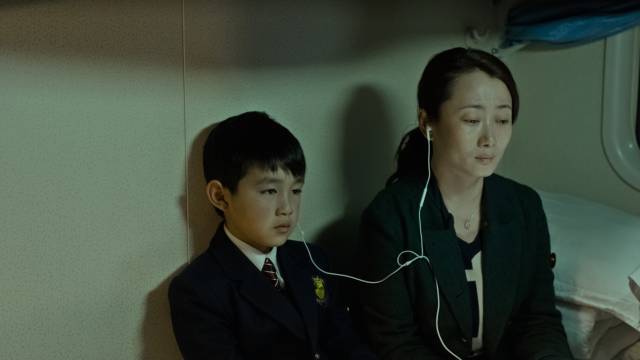 A highly regarded contemporary Tibetan Buddhist teacher once joked that his American students— especially in California— get most uneasy when he brings up aging. What makes his native Chinese students most visibly distressed is the topic of romantic relationships. In Chinese culture and films, it's obvious that within any communication between unequals—parents, lovers, and anywhere there's a power imbalance— such conversations are heavily restrained. Since anything political in mainland China falls under strict censorship, the safest movie themes will be ancient history or personal relationships. If you convey personal relationships, the lack of genuine communication and mutual understanding will eventually surface. If you want a Chinese movie that steers clear from melodrama, this dearth of intimate communication is a problem that hasn't been easily resolved.
Director Jia Zhangke very admirably tackles this problem in Mountains May Depart. It spans across three decades— 1999, 2014, and 2025 following economic reforms in China. The dialogue is sparse at first. Beginning on Chinese New Year's Day 1999, the story unabashedly roars in post-Communist Bollywood style to the tune of Pet Shop Boys' "Go West", with a group of twenty-somethings setting the stage (literally). Next, we're given a triangle: Two men—1) Liangzi, a coal miner; 2) Zhang Jinsheng, an investor; and 3) Tao, a girl who magnetizes them both. None of these characters are skilled communicators. Zhang Jinsheng is the volatile one. Outside the economic arena, his social inadequacies scream "loser!" Tao is on the naïve side, but the film places her in the driver's seat, as her choices wind up directing the fate of this trio's friendship. In a lovely scene where Tao shares homemade dumplings with her companions, the film succeeds in resolving the communication problem albeit temporarily. Making and sharing dumplings becomes a metaphor for nurturing and intimacy. In the future, this theme is repeated with her son who then gives this ritual an unexpected twist.
After choosing one of the men and bearing his child, Tao's life takes an interesting turn. The forces of marriage, birth, sickness and death descend. In the scenes set in 2014 and 2025 the film really departs from the tried and true, and things get interesting. An invisible fourth character emerges...destiny. This fourth character is so strongly palpable in the last act that the son's recurring feelings of déjà vu is the only glue that would make the gaps of misunderstanding come together. The bigger scheme of what occurs between all of the characters, whether good or bad, shows that no one individual is blame-able. A series of conditions, choices and consequences evolve over thirty years, and the saddest part of it is that none of the characters can see it. Only we, as spectators, can spot the incidental players in the lives of the characters a decade ago, who re-emerge as someone significant much later.
Mountains May Depart is a refreshing, welcome departure from the stereotypical Chinese melodrama. What's most satisfying is how Jia Zhangke pulls a first generation Western perspective into what starts out as a traditional Chinese aesthetic of restraint. He knocks down such mountains and shows the vastness of ocean and sky, so that the possibility of intergenerational Chinese, amidst so many differences, can start to see each other, to learn who we really are, to ourselves and each other.