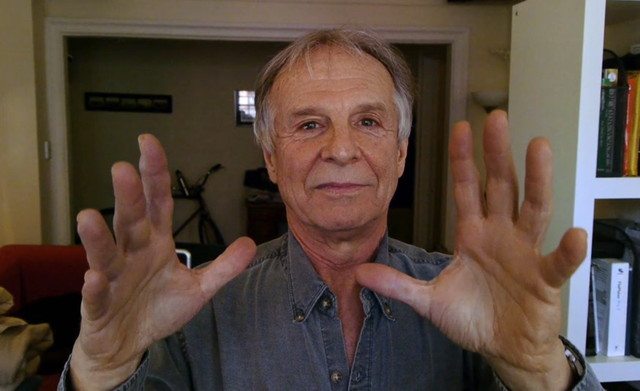 One Cut, One Life is a fitting coda to the career of seminal documentarian Ed Pincus, yet it rarely feels elegiac, it's a vital and probing work of personal filmmaking. A pioneer in the field of direct cinema, both as a filmmaker and as a teacher, Pincus first made his first film, Black Natchez, about the battle to register southern black voters, in the early 1960s and is perhaps best known for his Diaries: 1971-1976, a cornerstone of the film-as-memoir genre. Much of the vitality in One Cut, One Life is due to his filmmaking partnership with Lucia Small, which proves both creatively fruitful and personally combustible. The partners turn the cameras on themselves and their lives as they explore mortality and art as Pincus battles two diseases leading up to his death in 2013.
Befitting the nature of their work, Ed and Lucia are uncommonly intimate collaborators, which seems to vitalize the both of them, but places a strain on Ed's long marriage with his wife Jane. Paradoxically, the film is often a character in itself, as the viewer sees Jane chafe at the cameras present in her last months with her husband, which she sees as a violation of their personal space. Ed states that he sees the film as a means of taking control of his life and illness, as one last personal statement. For Lucia, it's both one last chance to work with a mentor and also a chance to process to confront mortality, which she has struggled with since the random and violent deaths in quick succession of two of her friends, one of whom was murdered by a boyfriend while the other was struck by a car fleeing a crime scene. These deaths hang heavy in Lucia's mind as she assesses her own life and witnesses Ed's decline. Ed is questioning whether or not to attempt a bone marrow transplant, an extremely painful and risky "Hail Mary" option, essentially asking the question of whether to spend a year living comfortably before death, or enduring a year of pain for the chance of several more years.
Ed and Lucia are both extremely cognizant of their own different motives and the toll their film is taking on Jane, trying to mollify each other but determined to carry on. Ed simply says, "I'm a filmmaker, that's who I am," and working on the film seems to be one of his greatest joys. The incredible intimacy of the film is its greatest virtue, but can also grow queasy, especially in medical scenes and when the camera is fixed on an unhappy Jane, which almost makes the viewer feel complicit in infringing on Jane's privacy.
One Cut, One Life is a film completely interwoven and inextricable from the lives of its creators, and is essential for anyone concerned with autobiographical filmmaking. But that term, autobiographical, must have a large caveat in this case, because it is so clearly the work of a partnership whose work transcends both individuals. One Cut, One Life is a powerful dialogue between two artists confronting death with art, the only means they know.