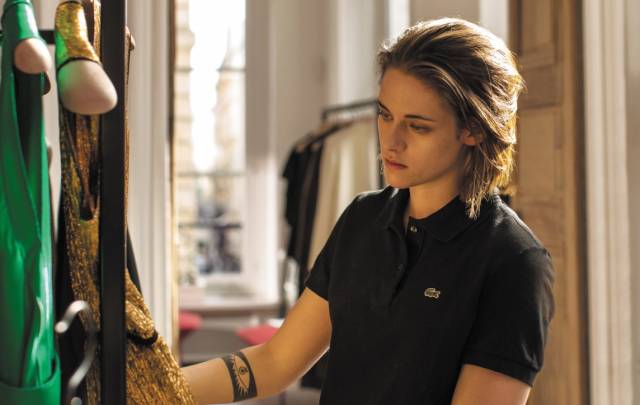 Being a mainland European sophisticate has its perks; cobbled streets serve as an ashtray for impenitent smoking, good fashion sense is as innate as gazing philosophically through window panes at nothing in particular, while speaking selective English can prove useful for when Americans stumble onto the old world. At least, that's what a gap-toothed bite of European films would have us believe. The English language French film Personal Shopper, written and directed by Olivier Assayas, is no exception. This film, like his erstwhile Clouds of Sils Maria, casts Kristen Stewart as an assistant to a star.
Young American Maureen (Stewart) may have access to haute couture and the spirit world, but putting a bit of effort into French pleasantries wouldn't go amiss, especially as she's gone as far as living and working in Paris as a personal shopper for a highly-strung celebrity. But this fish out of water isn't your average catch. Disinterested in her day job, Maureen is also a medium; she can communicate with the dead, or…she is in a state of deluded grief. Maureen's twin brother Lewis has recently died in Paris from a heart condition that they share. "So we made this oath, whoever died first would send the other a sign."
As Maureen endures her glamorous occupation, she uses her spare time to research Swedish mystic artist Hilma af Klint and Victor Hugo's séances for possible methods of communication with Lewis in the limbo of his creaking old house. When Maureen responds to a presence she appears to have summoned there with "You're not my brother" - it is effectively creepy.
But this isn't just a ghost story. Sparse dialogue, but for a mysterious yet revealing exchange between serial sweater-wearing Maureen and her employer's lover Ingo (played by German screen actor and stage provocateur Lars Eidinger), makes room for facetime with her overseas boyfriend and texting with an ominous stranger whose wily powers convince her to defy her boss by trying on her new designer clothes. It is in this garb that Maureen, aroused by the dominating force of what may or may not be a techno-specter, surpasses any peccadillo Melanie Griffith might have exemplified in that other boss' spoils movie Working Girl.
Stewart possesses an odd appeal and a reluctant resting face. Consistently watchable in a film she undoubtedly carries, her shifty presence befits this ghost story-cum-psychological thriller. In the franchise that made her famous, Stewart perfected onscreen anxiety and restlessness. While Personal Shopper is let down by brief glimpses of clunky special effects, Assayas nevertheless understands the less is more adage and the impact of a POV that belongs to something other. His film may shift in tone through a few foibles, but it is as strange and gripping as its leading actress.