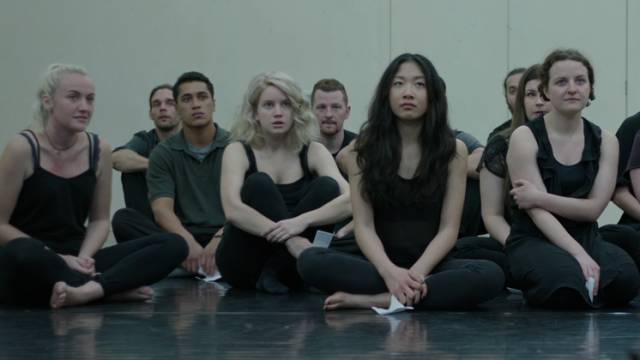 In The Rehearsal, director and New Zealand native Alison Maclean returns to her homeland to adapt the first novel of New Zealand's young literary star Eleanor Catton. Taking place mostly in the confines of an elite drama school, even as it eschews conventional dramatics, The Rehearsal is uncommonly attuned to the complexities of both performance and maturation. There is no single element in the film that hasn't been seen before, but, filtered through Maclean's sensibility, the end result feels bracingly new and different. There isn't much big picture tension about how the film will end, but, as in an electrifying live performance, there is moment-to-moment tension throughout. Partly this results from the layers of performance within the film, but primarily it derives from the film's sophisticated view of young personalities. While a lazy teen film might rely on labels and types, as if one word could fully convey someone's character, The Rehearsal is truthful in showing how unformed the young characters really are; they are shown trying to discover their personalities, grasping for an understanding of their passions, convictions, and flaws.
While The Rehearsal is very much an ensemble piece, Stanley (James Rolleston), the most unformed personality at onset, is also the most prominent character and the bridge between the film's two stories. It's a little unclear how or why the shy country boy ended up at the Institute, the elite acting school ruled over by Hannah (Kerry Fox), a teacher both loved and feared. But under the direction of Hannah and more adventurous classmates like William (Kieran Charnock), Stanley soon embraces the self-questioning at the heart of the Institute's curriculum and grows in confidence and skill. Meanwhile, Stanley has also met Isolde (Ella Edward), a high school girl whose sister has just made headlines for an affair with her tennis coach. The taboo allure of this story excites his classmates, who pick the story as a subject for their months-long performance project, a betrayal of trust that Stanley is unable to confess to Isolde.
Audiences will not be shocked that these threads come to a head at the final performance, but when that ending comes, its ambiguity will delight and frustrate in equal measure. The Rehearsal isn't about end result, but about process. The most electric scenes involve acting exercises (one standout involves Stanley channeling his womanizing father) and the students discovering for themselves the tensions of creating art – between inspiration and exploitation, between leading and following, between self-revelation and self-concealment. While the larger plot elements hover in the background, Maclean lets student life unfold naturally, as the students drift in and out of relationships, explore ideas, and confront a tragedy that turns their small world upside down. Hannah, meanwhile, must confront the more adult problems of marrying art and commerce and managing a school filled solely with combustible personalities. Throughout, Maclean uses the offbeat score and inventive camerawork to create a unique tone. The Rehearsal is an unusual and rewarding film, ably balancing coming of age with a keen understanding of the process and sacrifices that create a successful performer.