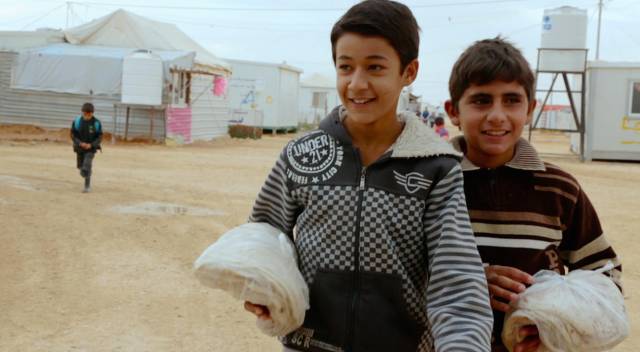 When Humans of New York photographer Brandon Stanton visited Jordan last year, it was probably the first time many Americans learned about the Syrian refugee crisis. His reporting led actor Ed Norton to fundraise over $460,000 to aid the Syrian refugee known only as "The Scientist". The brilliant documentary After Spring, directed by Ellen Martinez and Steph Ching, tells yet another remarkable story of today's Syrian people. These resourceful citizens of the world are connecting with fast-paced Information Age ideas and values, all of which arrive and converge at the Zaatari Refugee Camp in Jordan in unpredictable ways. The fusion of asylum seekers and humanitarian aid here has wrought a re-assembly of broken lives. Watching this film is like being invited to a sanctum where cultural alchemy occurs.
Undeniably, on the whole, the climate of trauma is the daily forecast (globally, but particularly here). Equally true, through the film's steady gaze, a fundamental, constructive hope emerges as intrinsic a component of survival as oxygen. Homelessness coexists with temporariness, and this film is about the meanwhile. Who knows when the Syrians can return to their country? In the meanwhile, what choices are there? What dreams? They encounter many of the same distractions any New Yorker might have — what to eat, what to wear, what to do with the resources you have, making sure your kids do their chores or homework, keeping clean. Daily maintenance is no small agenda, particularly when being idle breeds discontent. Through a combination of necessity, shared situations, compassion, boredom, and perhaps a keen openness for what the world offers, a previously isolated, now scattered, and mostly under-18 society is under construction.
The treasures which lie inside the tents and caravans of this camp are what After Spring charmingly unveils. Behind the documentary is a diverse crew with impressive socially proactive credentials (Jon Stewart is the executive producer). Interviews with refugees feel more like revelations than interviews. "Better to live in a happy hut than a crying castle" is more than a motto on the wall. That this bittersweet hybrid organism, a makeshift community spawned from unkind circumstances, has unique potential is just one of the plums in this film's pie. Maybe hope is an understatement.
After Spring is superbly crafted, astute in many ways — beautifully filmed and orchestrated, yet shining most in how it handles the complex, emotionally-charged matter of a nation shattered by war. Grounded in its humanity, whatever light it sheds on the facts of this crisis ultimately has one effect: there's no difference between the Syrians and us. An avalanche broke open in what once was perceived as a remote region. This film alters that perception — that avalanche was our backyard, and what happened there is changing our world.