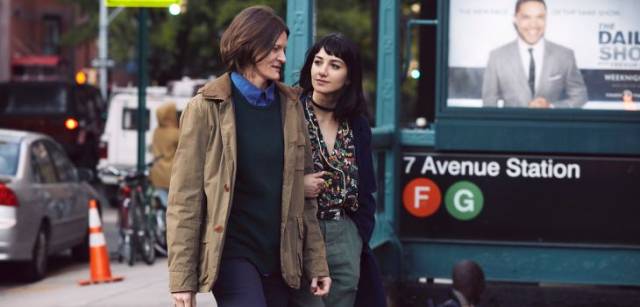 Women Who Kill, from The Slope creator Ingrid Jungermann, manages to be equal parts relationship drama, a droll look at the Park Slope lesbian community, and a nerve-jangling thriller. Jungermann stars as Morgan, who avoids strife and danger in her own life while celebrating it in others through hosting a podcast about female serial killers, conducting interviews in prison and trying to understand the killers' perspectives. She shares this macabre task with Jean (Ann Carr); the pair are supposedly ex-girlfriends, but they still live together and are still fully co-dependent.
The dynamic shifts when Simone (Sheila Vand) bursts into Morgan's life. The two have an immediate connection even though Morgan's friends see red flags. In addition to being young and pretty, Simone is private and mysterious, which for Morgan is a compelling correction to Jean's tendency to "talk and share and pick apart everything until it doesn't exist anymore." Morgan ignores her friends' complaints and goes as far as moving in with Simone, until Jean finds clues that suggest Simone might just be the daughter of a prolific serial killer they profiled on their show, or perhaps, if the facts are looked at with a paranoid eye, the killer herself. Faced with a possible real killer after years of studying them from a distance, Morgan lets her morbid thoughts run wild, with disastrous consequences.
The comedy and thriller aspects of Women Who Kill blend so well because one informs the other. Jungermann takes the audience on a gently satiric tour of lesbian Park Slope, from softball games and avant-garde art exhibits to bachelor parties and strict food co-ops. And while the community is usually supportive and open-minded, it can also be insular and emotionally claustrophobic. Simone appeals to Morgan as the antithesis to this, an envoy from a bigger, more dangerous world, with a similar appeal as the vicarious thrills that come from studying true crime. It's an internal conflict that affects how Morgan interacts with potential partners; as she tells a friend, Jean makes her feel like the person she is, which Morgan doesn't like despite its safety and intimacy, while Simone makes her feel like the person she wants to be, which is alluring despite the fear that comes with it. Women Who Kill is also timely in its treatment of amateur true crime investigations. Morgan and Jean find value in telling the stories of the "trapped women" that become murderers, but this morbidity poisons their inner lives and normal relationships. It's clear Morgan's moral compass is askew when she revisits a murderer she's already interviewed, not to study her crimes but essentially to ask for relationship advice.
Speaking to the tension at the heart of all relationships and the negotiation between fantasies and real lives, Women Who Kill is unique film that is able to traverse genres with a tightly controlled tone and Jungermann's deadpan, yet complex character.