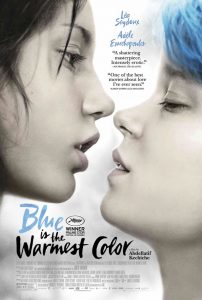 The Motion Picture Association Of America (MPAA), founded in 1922, has many jobs, including helping to protect the six major Hollywood studios against the increasing problem of piracy.  But their main role in the industry is, and always has been, the monitoring of content in films.  Since the 60's, that monitoring has taken the form of Ratings.  The number and names of the ratings have varied throughout the years, although the current system is familiar to any moviegoer: G, PG, PG-13, R and NC-17.  Though traditionally R is the harshest rating big studio films will earn, every now and then the MPAA slaps a movie with the dreaded NC-17 to signify a "serious" yet non-pornographic film with violent or (especially) sexual content that exceeds a typical R.
An NC-17 rating is often considered the kiss of death.  It means that absolutely no one 17 or under is admitted into the theater (as in, viewers have to be at least 18).  As such, most of the large theater chains refuse to even screen films with an NC-17 rating, severely limiting those films' ability to attract audiences.  (For more information on how the MPAA operates and why many filmmakers are opposed to the system, check out the fascinating documentary "This Film Is Not Yet Rated".)
The critically-acclaimed French film "Blue Is The Warmest Color" is the latest to open with an NC-17 rating.  It has already climbed to #17 on the list of highest-grossing NC-17 films of all time, with $746,428.  This was no doubt helped by the IFC Center's decision to ignore the MPAA entirely and release the film as "Unrated", which means anyone of any age can go see the film (and should: read our review).  Here's a list of the 10 most successful films to ever be released with an NC-17 rating:
10. Bad Lieutenant (1992) - $2.0 million
Harvey Keitel starred in this "supersleazy" crime drama about a cop investigating the rape of a young nun.  Traditionally, the MPAA awards NC-17's for explicit sex (whereas explicit violence usually only garners an R -- one of the many reasons filmmakers dislike the MPAA), and "Bad Lieutenant" is one of the few films to be given the strictest rating for "graphic drug use" as much as "strong sexual situations."  Though released in theaters as NC-17, the film was later edited down to R so video stores such as Blockbuster would agree to carry it.
9. Crash (1996) - $2.0 million
This bizarre David Cronenberg film is about people who are sexually aroused by car accidents.  It features many graphic scenes, both of violent car wrecks and of explicit sex.  The film split critics pretty firmly down the middle, with some praising it for its daring, unique vision and others decrying it for its violent sex.  Though it was released theatrically with both an NC-17 and an R version, and it won the Special Jury prize at the Cannes Film Festival, "Crash" still only managed to gross $2 million in the United States.
8. The Dreamers (2004) - $2.5 million
A co-production between the United Kingdom, France and Italy, this Bertolucci film based on the Gilbert Adair novel "The Holy Innocents" fuses explicit sex, lengthy discussions of film and political tumult into a romantic head-trip.  It tells the story of an American student (Michael Pitt) who moves in with two French siblings who are all-but-incestuous, and begins a relationship with the sister (Eva Green).  At its peak, it played in only 116 theaters, making its $2.5 million gross totally respectable.
7. Shame (2011) - $3.9 million
The most recent film on this list stars current Hollywood heartthrob Michael Fassbender and was directed by Steve McQueen, the man behind this year's Oscar darling "12 Years A Slave".  The film centers around Fassbender's Brandon, who is a sex addict, so an NC-17 for explicit sexual content was completely unsurprising.  The President of Fox Searchlight (the company that distributed the film) was quoted as saying, "I think NC-17 is a badge of honor, not a scarlet letter.  We believe it is time for the rating to become usable in a serious manner."  After racking up awards on the festival circuit, "Shame" became the first NC-17 film ever to be downloadable from iTunes.
6. Tie Me Up! Tie Me Down! (1990) - $4.1 million
When this film by director Pedro Almodóvar and starring Antonio Banderas (which was the highest-grossing film of the year in its native Spain) was released in the United States, it became personally responsible for the creation of the NC-17 rating.  The MPAA originally slapped the film with an X rating, usually given only to hardcore pornography.  Miramax, the distribution company, sued the MPAA, who replaced the X with a brand new NC-17.
5. Lust, Caution (2007) - $4.6 million
Director Ang Lee is no stranger to controversy.  His film "Brokeback Mountain" was banned in many countries, including China, Malaysia, most of the Middle East...and even Utah.  So when his espionage thriller "Lust, Caution" was given an NC-17 rating, the filmmaker didn't flinch.  The film won the Golden Lion Award at the Venice Film Festival, and Lee himself was given the Freedom Of Expression Award by the ShoWest Convention for his refusal to edit his film to the MPAA's standards.
4. Bad Education (2004) - $5.2 million
Pedro Almodóvar is the only filmmaker with the honor of appearing on this list twice.  Fourteen years after singlehandedly inspiring a new rating level, his stylized murder mystery starring Gael García Bernal once again earned him an NC-17.  The decision came as no surprise from the typically-conservative MPAA, as the film contains explicit sex, as well as story lines including transgendered characters and a sexually abusive priest.  However, "Bad Education" was lauded critically, and was even given the honor of opening the Cannes Film Festival that year, becoming the first Spanish film in history to do so.
3. The Cook, The Thief, His Wife And Her Lover (1990) - $7.7 million
This romantic crime drama by director Peter Greenaway starred Dame Helen Mirren as the sophisticated but battered wife of a gangster who carries out a doomed affair.  The MPAA's rating decision led to arguments about censorship, with Roger Ebert writing an impassioned critique of the organization, saying, "And so the MPAA enters its third decade of hypocrisy, and serious filmmakers like Peter Greenaway, filmmakers with something urgent to say and an extreme way of saying it, suffer the MPAA's tacit censorship."  Helen Mirren was personally flown to LA by Miramax to appeal the MPAA's decision, but the organization remained unmoved.  Already in NC-17's inaugural year, criticisms were being made about how it was employed more for sexual content than violence.  As Mirren herself put it, "I can't see where anything in our film is more destructive to the human spirit than the sort of mindless violence they do approve for children."
2. Henry & June (1990) - $11.6 million
This was the first film after "Tie Me Up! Tie Me Down!" spawned the NC-17 category to be released with that rating.  It chronicles the love triangle between French author Anaïs Nin, American author Henry Miller and his wife, June.  It was helmed by acclaimed director Philip Kaufman and starred such famous actors as Kevin Spacey and Uma Thurman.  A two-second scene barely three minutes into the film of Nin looking at a postcard depicting "The Dream Of The Fisherman's Wife" (in which a woman is engaged in sex with two octopi) was as responsible for the NC-17 rating as any of the film's scenes of nudity or sex.
1. Showgirls (1995) - $20.4 million
By far the most (in)famous film on this list.  Despite horrific critical reviews (it's still regarded as one of the worst films ever made), this tale of a Vegas performer who climbs the ranks from stripper to showgirl went on to become the highest-grossing NC-17 film of all time.  It was also the first NC-17 film distributed in wide release, which certainly helped it achieve this status.  But being the top of such a low-grossing list isn't quite an accomplishment when your budget was $45 million.  The film was a total flop and went on to win a then-record seven Razzies -- including Worst Screen Couple for "any combination of two people (or two body parts)" -- a record not surpassed until the 2008 Lindsay Lohan bomb "I Know Who Killed Me".