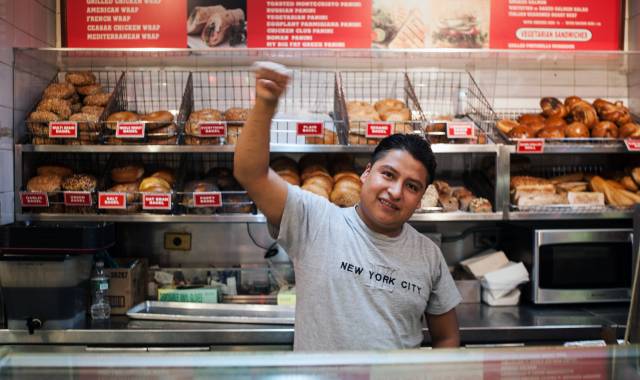 Tackling two extremely hot-button issues simultaneously, The Hand That Feeds could have very easily become too cumbersome to support its own weight. In one corner, this New York documentary is presenting a humanizing argument about illegal immigration, and in the other, it is arguing for wage equality and workers' rights. The result is an extremely emotional and inspiring story about the power of community, and the strength of several unlikely heroes who work at a local Hot and Crusty.
The documentary follows several undocumented immigrants in their quest to be treated fairly at work. In doing so, they set out to form an independent union to fight back against the owner of the popular city sandwich shop. Directors Robin Blotnick and Rachel Lears's shooting style is pure verité, and most of the film is captured in the trenches of protests and staged displays designed to draw attention to the workers' struggle. Shaky and at times grainy or dark footage is the natural result of on-the-go filmmaking, and yet this adds a layer of suspense and excitement to the narrative as well. There are several wonderfully edited sequences that capitalize on the teetering of suspense and catharsis as we wait to hear the highly anticipated results of a union eligibility election.
At the center of all of this, is the ultra-likable, incredibly endearing, Mahoma López. Mahoma is the face of the entire Hot and Crusty movement, and his passion for the cause is palpable. He and most of the other workers are all smiles, as they tell stories of how and why they've ended up in New York. This emphasis on backstory and character proves to be the sturdy infrastructure that makes this documentary so powerful. While some of the legalese of these workers' rights (given that they are undocumented) is unclear or briskly addressed, the sheer joy of watching these workers organize themselves and make progress against all odds is the real success story.
The Hand That Feeds puts a face to the immigration crisis in a refreshing way. By examining these characters' backstories and documenting the thrilling back and forth with the Hot and Crusty franchise, we get to see people making decisions that have real consequences (i.e. risking deportation, arrest, etc.). The integrated organization with Occupy Wall Street demonstrators unites oppressed people of all different backgrounds and proclaims that their struggle is the same. Ironically, and perhaps intended so, The Hand That Feeds, showcases illegal immigrants embodying the stereotypical American dream. These are immigrants who, under the thumb of abused power, have chosen to persevere as they risk everything to try and formulate a better life.