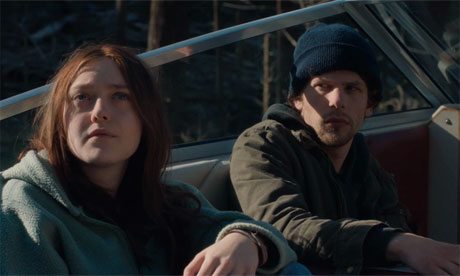 "Night Moves" deserves some recognition for its taut atmosphere. In the fifth feature from Kelly Reichardt, three young radicals cobble together to blow up a hydroelectric dam in Oregon. For Josh (Jesse Eisenberg) and Dena (Dakota Fanning), the reasons are political: they are angered by America's piggish consumption of energy---as Josh says, the dam is a symbol for all those folks who want "to keep their fucking iPods charged all day". For Harmon (a solid Peter Sarsgaard), a former Marine, destruction for destruction's sake seems more the point. Whatever their motivations, the trim script from Reichardt and co-writer Jon Raymond keeps the characters tight-lipped. So the filmmakers rely on the movie's visual language to suggest the emotions of fear, bitterness, and adrenaline that lay beneath their cool exteriors.
The approach works fantastically, in the beginning. As Josh, Dena, and Harmon go through their high-stakes check list of to dos, including Dena's clever purchase of an excessive amount of ammonium nitrate fertilizer, the uncertainty of whether or not they can pull the act off, and if they should, looms over their silences and Christopher Blauvelt's generous cinematography of the Pacific Northwest. Reichardt's direction is deft at making the most of little moments. On the morning of the explosion, Josh fetches breakfast and returns to the sounds of giggling and maybe moaning inside Harmon's trailer. Harmon, a sexier, more confident man who is clearly turned on by the resourcefulness he originally doubts in Dena, has managed to disarm her, at least for the morning. Nerves are on high and people have to cope, including Josh. He strays away solo into the woods. The camera zooms in on his hand, which twitches very slowly like a spider that is trying to hold onto an unraveling web.
That illustration of human anxiety wonderfully haunts the group's otherwise economical attitude. But once they blow up the dam and learn that a stray camper was likely killed in the resulting flood, "Night Moves" doesn't hold up. Dena can't handle the guilt and emotions of empathy emerge, but aren't given the room to develop. The problem is, we don't get to know any of the main characters better, so it's hard to care about how they face their choices. Josh is especially indecipherable and wedded to Eisenberg's wearying scowl. Dakota, whose moon-face is so good at expressing alarm, should work as a moral compass, but her performance is too colorless to play off of Eisenberg's stoniness.
At least Alia Shawkat shows up here and there to remind us not all American youth are shells. As a fellow-resident of Josh's agricultural co-op, Shawkat brings the right amount of brightness to her scenes and even filches a real laugh from the movie's zombie-like mood. The rest of "Night Moves" might have felt just as measured if it didn't refract all insight into Josh and Dena, who are capable of trying to help the planet, but seem to have no joy in actually being part of it.