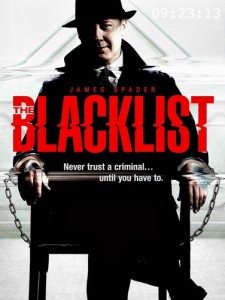 NBC Mondays @ 10pm ET
What's it about?
For decades, ex-government agent Raymond "Red" Reddington has been one of the FBI's most wanted fugitives.  Now, he's mysteriously surrendered to the FBI with an explosive offer: He will help catch a long-thought-dead terrorist, Ranko Zamani, under the condition that he speaks only to Elizabeth "Liz" Keen, an FBI profiler fresh out of Quantico.  For Liz, it's going to be one hell of a first day on the job.  What follows is a twisting series of events as the race to stop a terrorist begins.  What are Red's true intentions?  Why has he chosen Liz, a woman with whom he seemingly has no connection?  Does Liz have secrets of her own?  Zamani is only the first of many on a list that Red has compiled over the years: a "blacklist" of politicians, mobsters, spies and international terrorists.  He will help catch them all... with the caveat that Liz continues to work as his partner.  Red will teach Liz to think like a criminal to "see the bigger picture" - whether she wants to or not.
How is it?
James Spader ("Boston Legal", "The Office") just landed the role as the robot-villain Ultron in the highly anticipated sequel "The Avengers: Age Of Ultron".  So consider "The Blacklist" as a little preview of the delicious nastiness we will be witness to in the summer of 2015.  Here he gets to warm up his villainous chops as a super-terrorist with a super-silly name: criminal mastermind Red Reddington.  With his shaven head, stoic demeanor, and conversations with a rookie FBI agent, the comparisons to Anthony Hopkins' Hannibal are inevitable.  But Spader is so good and so fun that Red doesn't feel like just a rehash.  He's a creepy genius who undoubtedly has a master plan that we can't even begin to imagine at this point.
Megan Boone ("Law & Order: LA") is also great as Liz, the FBI profiler who is summoned by Red on her very first day on the job.  There's no apparent connection between the two, which is just another mystery we'll have to wait to be solved.  With his help, the two work to bring down a terrorist plot, which is great -- or did the FBI just unknowingly play directly into Red's infinitely more clever hands?  Red's got a whole list of criminals he wants to help the FBI bring down, and therein lies the show's true nature.
You see, "The Blacklist" is really much more formulaic than it wants you to think.  While it sets itself up as a twisty conspiracy thriller, going forward it will really be a procedural case-of-the-week format as Red helps the FBI hunt down a different terrorist every week.  And that's not necessarily a bad thing.  Some great shows have started in a procedural format to help ease audiences slowly into their true, more complicated natures.  "The X-Files" and "Fringe" are two superb examples of this.  They each started as monster-of-the-week shows that gradually revealed a deep, series-long mythology.  Establishing a fan base with a procedural format is a great way to make sure your audience will stick around when you reveal your show's true serialized nature.
Like last night's other new drama, CBS' "Hostages", "The Blacklist" is full of characters with secrets.  But unlike the secrets of "Hostages", which do nothing but distract from the show's main plot, the secrets here are integral to the story and will fuel the show going forward.  We know the characters have secrets, but we don't know what those secrets are yet.  And that makes all the difference.  What's Red's true agenda?  What is Liz's connection to him?  What happened to her as a child?  There's another secret introduced in the pilot's final moments that I won't spoil here, but it's definitely one of the most interesting.
"The Blacklist" has successfully introduced itself as a new, intriguing mystery show that will please fans of both procedural cop shows and serialized mystery shows.  Hopefully the writers will continue to strike that delicate balance and avoid alienating either group.
What did you think?  Have you added "The Blacklist" to your list?  Tweet us @StageBuddy to share your opinions!
[youtube]https://www.youtube.com/watch?v=k9_qgX7pTlc[/youtube]