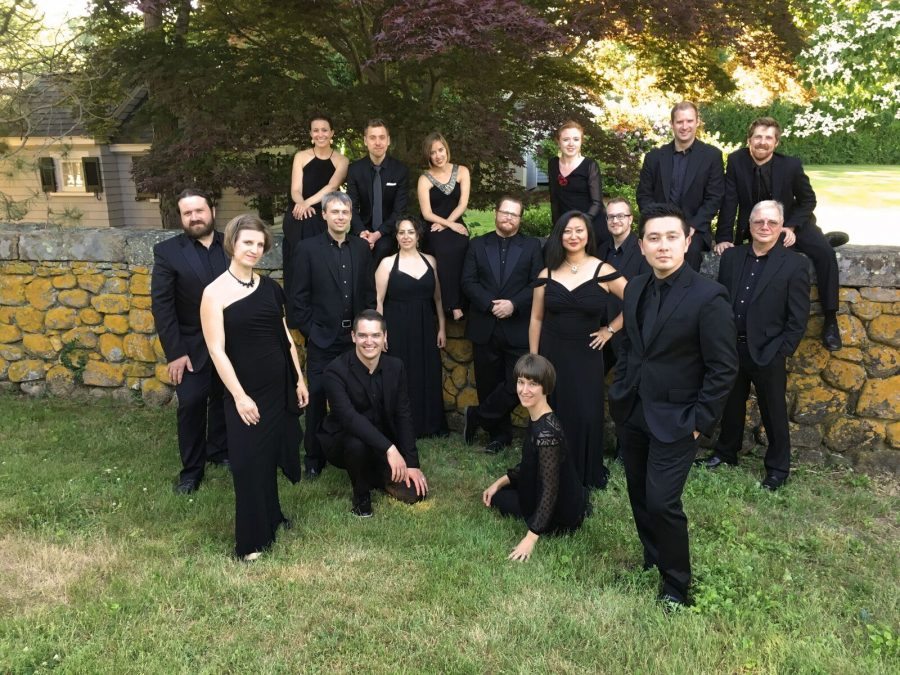 An unusual pairing of Francis Poulenc's choral masterpiece Figure Humaine and well-known songs from America's Civil War era made for the fascinating hour-long concert Clear Voices in the Dark performed by Skylark Vocal Ensemble, an a cappella group of singers hailing from Atlanta and Boston.  Conceived and conducted by Skylark's artistic director, Matthew Guard, the 15-member ensemble, with impeccable diction and a seamlessly blended sound, performed this diverse program at the French Institute Alliance Française's Florence Guild Hall.
Poulenc wrote his unaccompanied Figure Humaine in 1943 for double choir using as his text poems by Paul Éluard; both men were involved with the Resistance in Nazi-occupied France, and the piece reflects the tragic suffering of war and the passionate cry for freedom from oppression.  Written in secret, Figure Humaine didn't receive its premiere in France until 1947.  Faced with the challenge that Figure Humaine is only 20-minutes long, Mr. Guard chose to insert between each one of the eight settings of Éluard's poems Civil War songs from 1861-1865.  This experiment required the singers to shift vocal styles.  With an elegant deftness, the singers under Mr. Guard's strong direction, moved back and forth between the lush polyphonic textures and musical complexities of Poulenc and the plaintive cry of a simple ballad or rallying of a battle anthem from the Civil War.  For greater contrast, the Poulenc could have used more vocal warmth at times, but it was refreshing to hear these vocal changes and Skylark's ability to achieve a "high lonesome" albeit refined sound on some of the Civil War selections.  Especially moving was the evening's opener, "When this Cruel War is Over," sung with haunting simplicity by mezzo-soprano Carrie Cheron.
What is so heartbreaking in juxtaposing two different wars in two different time periods in two different countries is how much things stay the same.   Éluard's texts and the lyrics of the Civil War songs are filled with mothers, wives and sweethearts grieving for the loss of their sons, husbands and lovers.  "Johnny has gone for a soldier" also known as "Buttermilk Hill" (sung by The Weavers in the 1960s) and "Break it gently to my mother" are devastating as they frame the chaotic second movement of Figure Humaine, "En chantant les servants s'élancent," describing the battlefield where "maidens rush forward to tidy up the place where blood has flowed."  A furious downward driving fugue inhabits the seventh movement, "La menace sous le ciel rouge," until it opens up into hope as all voices become unified, "and stupidity, dementia and vulgarity gave way to humanity and brotherhood/No longer set against life/But to an indestructible human race."  Singing in a shimmering pianissimo that rises to a triumphant crescendo, the Skylark ensemble practically opens the heavens with the beauty of their sound.  After a rousing "Battle Hymn of the Republic," one of several songs arranged by Mr. Guard, the evening ends with the pinnacle of Figure Humaine, the eighth movement, "Liberté," a rushing ode to freedom in the form of a 21 stanza list, each stanza ending in "J'écris ton nom/I write your name." From the mundane "On the fruit cut in two" to the powerful "On all united flesh/On the faces of my friends/On each hand held out," Poulenc and Éluard declare Liberté/Freedom shall be written on everything.  Skylark's Clear Voices in the Dark is an inspiring program of music, reminding us of the perils of losing our liberty and the destruction of war.