Prototype 2018 Interview: 'Iyov' Director Vladyslav Troitskyi on Telling Biblical Stories Through Opera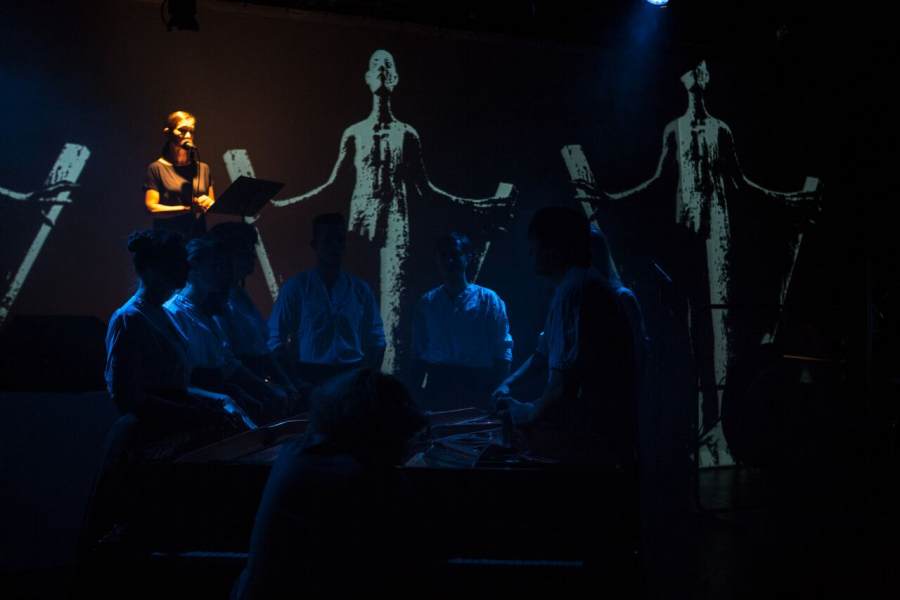 The opera-requiem IYOV fuses Biblical and liturgical texts with an extraordinary exploration of musical ideas from classical to folk to jazz, rock and electronics and practically all the sounds the human voice can make. Part of the 2018 Prototype Festival, IYOV is an aural and visual telling of the Biblical story of Job by artists (Nova Opera) from the Ukraine. Composers Illia Razumeiko and Roman Grygoriv, who also conducts, take turns playing/creating sound with all parts of prepared grand piano along with six singers, a cellist, a percussionist and a narrator. Live video, moving and archetypal images, evocative lighting and sound design contribute to the theatricality of IYOV; the audience is immersed at times in a deep, subconscious metaphor.
The person responsible for overseeing and artistically shaping IYOV is stage, film and art director Vladyslav Troitskyi. He answered (via email and an interpreter/translator) a few questions regarding the unique intersection of several art forms in IYOV and the challenges of creating work/being an artist in the Ukraine today. Mr. Troitskyi prefaced and ended his responses with what seems to be his and Nova Opera's credo: We do not know the right answers, we just raise the questions.
How did IYOV become a part of the 2018 Prototype Festival? How did you become a part of IYOV?
IYOV's story began when the Nova Opera team had been built. In 2014, we tried to make an opera without a composer, using the musical themes created by the musicians themselves (Coriolanus, [an improvisational opera]). Then, I started to work with two composers, Roman Grygoriv and Illya Razumeiko. I proposed [to] them the Biblical story [of] Iyov as a story of a man who managed to keep his faith against all the circumstances. At that moment, it was important for Ukraine as a country at war, but, I should say, not only for Ukraine. Then, we were invited to perform at the art festival in Lublin, and we get acquainted with that girl [Beth Morrison, Co-Founding Director of Prototype] who watched our opera and invited us to become the part of Prototype Festival.
The grand piano in IYOV is the communal center musically and physically. What was the inspiration for that idea and how did it evolve?
Spatial and musical heart of IYOV is the grand piano. The grand piano there is like a symbolic Lord's table. This is like in Johann Wolfgang Goethe's conception of [the] macrocosm which can be seen through [the] microcosm. This is the symbol of world, of a human being and of the God, of our whole life.
What makes the Biblical story of Job relevant to today's audiences? (Iyov is the Hebrew word for Job.)
On the one hand, the Old Testament is one of the books on which Western European civilization is based. Unfortunately, the stories inside the Old Testament are not widely known now. On the other hand, Iyov's story is the story of human hardship, no matter whether it happened several hundred years or several thousand years ago. It is the story of how to keep strength, belief and love. It was very important in Ukraine in 2015, but it is important at any time for everyone as well.
As the director, you're responsible for weaving all the elements (music, actors, singers, lights, video projections) together. Were there moments of improvisation with these elements? Or did you plan and stage every moment?
Sometimes there is this connection between the elements which cannot be combined [arranged]! On the other hand, every person on the stage, including those who manage sound and lights, is a true artist. He or she is not just performing the program. Every other [different] space requires some new approaches.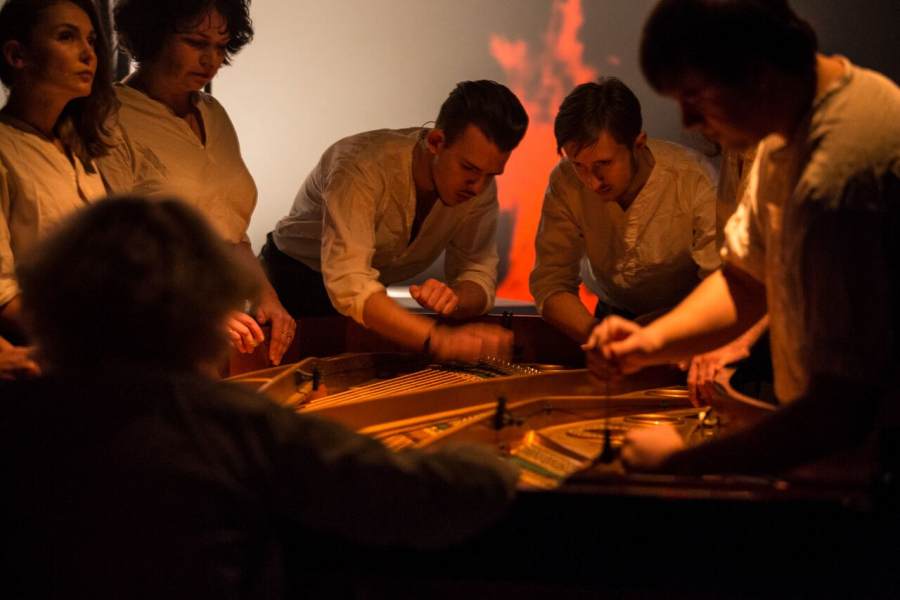 The video portion of IYOV contained a combination of moving and primal images and in real time footage of the performers. What was the process for designing this video?
It is a very lively process, which modifies from space to space. Of course, we have some fabricated parts, but as soon as we enter the new space, we adapt them according to our needs, and try to do something completely new. So, every time we have a new production [we have] a new performance.
Is the opera/music/theater scene in the Ukraine thriving?
Actually, our company established the trend of new opera music development. For the official [traditional] opera music production is very conservative, let's say even [reactionary]. That is why our message is that the opera can be a very up-to-date art, it can be perceived by the public with great enthusiasm, make the public think and analyze, not only watch.
What are the challenges and struggles for theater artists in the Ukraine?
It depends on where you as an artist stand. If you are inside the state cultural institution, you feel well materially and financially. But often you as an artist are not free. Within the independent initiatives, you have your independence, but you should be like a ninja. You have to cope with everything: management, producing, everything from production to presentation. It is difficult, but it also mobilizes, and teaches [us] how to be creative. That is why such initiatives are successful.
Are you telling other stories?
We have already made the trilogy (Iyov, Babylon, and Ark). Every piece contains its unique idea: Babylon is about the ability to cooperate and negotiate nowadays, no matter [whether] in America or in the EU. Ark is about the necessity to build one's own ark and take all necessary people and rules on board when you are drowning in the stream of apocalyptical information. We do not know the right answers, we just raise the questions.