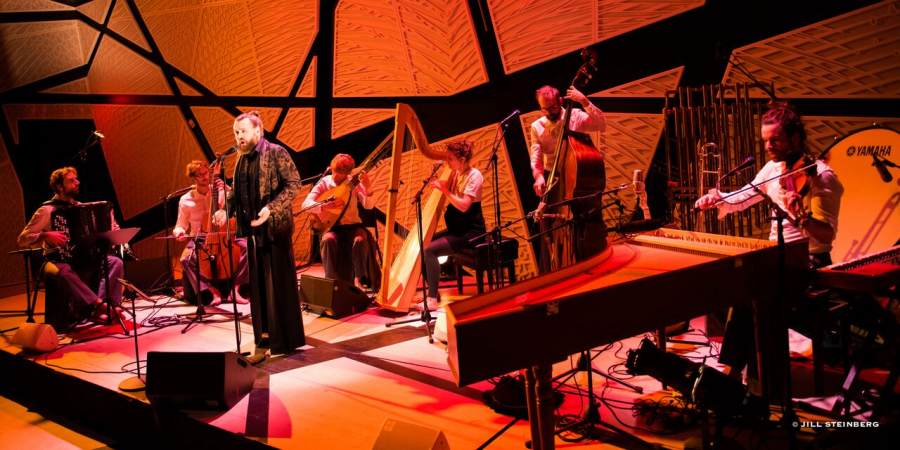 Belgian indie band Dez Mona and Flemish B.O.X. (Baroque Orchestration X) wound up the 2018 Prototype Festival with an encore performance, bringing back their theatrical song cycle Sága after its great success in the 2016 Festival. Titled after Sága, the Norse goddess of storytelling and the keeper of ancestry, and also referencing medieval Icelandic epics, the evening was filled with a lush musical fusion of Baroque, jazz, tango and minimalism, with a soupçon of pop rock. The goddess Sága was often found drinking with the god Odin, who was the keeper of poetry; since stories and wine are good partners it's fitting that Joe's Pub was their concert venue.
Singer/composer Gregory Frateur (one half of Dez Mona) is a modern day troubadour. With his extraordinary range and unique vocal timbre, he sang songs of longing; a searching for home, a desire for connection, a quest for wholeness with nature and with self. B.O.X. is a marvelous cornucopia of multi-talented musicians who create the orchestration and soundscapes for these yearning texts. Founded by lute virtuoso Pieter Theuns, who's also one of the composers of Sága, B.O.X. seeks to tear down the walls between musical genres. Mr. Theuns played the theorbo, a lute with a long neck extension; his virtuosity was astounding! And how often do you get to hear some brilliant theorbo playing?
In keeping with a Baroque spirit, there were sections of the song cycle that felt like recitative and other sections that had aria like qualities with improvisational embellishments. But there were always musical surprises: pulsating patterns, the repetition of a lyric passed between Mr. Frateur and a singer (most of the musicians also doubled on vocals), a basso ostinato juxtaposed with pop riffs, drones and the aching beauty of the accordion played by another virtuoso, Roel Van Camp. Each phrase Mr. Van Camp played on the accordion expressed the duality of sadness and joy, beauty and destruction. The other outstanding musicians rounding out B.O.X. were the harpist Jutta Troch, double bassist Kristof Roseeuw, Pieter Vandeveire on viola da gamba and the incredibly versatile Tijs Delbeke on violin, guitar, trombone, harpsichord, organ, vocals and some occasional percussion.
It is difficult to find the Norse connection beyond the title of the piece, but knowing that the goddess Sága was also a seeress, perhaps the connection was the shamanistic nature of the performances. During the last song, everyone sang the lyric "Somewhere along the Road" with chant like intensity, creating a trance like state over the audience. With closed eyes and interjections that somewhere along the road "we'll find peace, we'll help each other, we'll find love," Mr. Frateur seemed to be channeling this ballad from an ancient realm.