Interview: Grammy Winner Melissa Manchester On Life in the Music Business and Her Return to Feinstein's/54 Below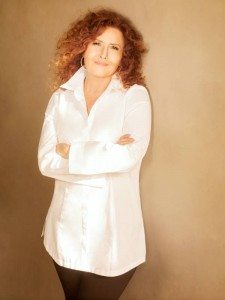 Grammy Award-winning singer/songwriter Melissa Manchester makes her return to Feinstein's/54 Below for four performances only this March. On Friday, March 3rd and Saturday, March 4th, Ms. Manchester will take the stage at her favorite NYC performance venue and share the songs, memories, and experiences that have shaped her over 40-year career in the music business.
StageBuddy had the amazing opportunity to catch up with Manchester before her shows begin about her career experiences, musical influences, the hunger that has sustained her journey, new projects, and more.
You must be so excited to be back at Feinstein's/54 Below! What are you most looking forward to as you return to the stage?
The room is extremely comfortable and cozy. The location is in the middle of the theater district – a very familiar neighborhood to me. I love the fact that most of the wait staff are young performers and New York is my hometown, so I'm always happy to be back! I've played different clubs around the city and feel most comfortable at 54 Below.
Will the evenings be centered around certain themes or reflections on your career?
Part of it will be playing the hits, but the other part is trying out some new material. I love that audiences at 54 Below are excited to take the ride with you. Right after I leave New York and 54 Below, I'll go back into the studio and start working on a new project. It's a follow-up to my Tribute album – which was an album I made about 20 years ago, for several of the female singers who meant so much to me in my very young years and I always wanted to do a follow-up dedicated to some of the men who meant a lot to me. The project is called The Fellas.
Can you spill any hints about who some of those fellas may be?
Frank Sinatra, Mel Tormé, Tony Bennett -- that group -- with some surprise guests on the recording. I'm really looking forward to getting started on this project.
You started your music career when you were in your teens. What would you say has sustained that passion and drive through the years?
The hunger to create -- it has its own impulse. When I'm inspired, or attracted to an idea, a group of words, or a tune that's been in my head – my brain holds on into and I keep following that instinct. I know the feeling and when it's present and when it's time to follow something. My last album, You Gotta Love the Life, is my tribute to the artistic life -- my artistic experience. It's always serving your creative hunger and it keeps you inspired, strong, and vibrant. It's something that you can pass along. In fact, that phrase "You Gotta Love the Life" came out of a discussion with my daughter – she was considering becoming an artist. I said to her that your talent is just a nugget that gets you into the door but it's the whole unsteady journey that's fascinating to me. That's what you must be willing to get comfortable with. Out of that, Sharon Vaughn and I wrote the song "You Gotta Love the Life" and it's so funny because every time I sing it at 54 Below, the wait staff joins in and sings it with me – it's really the sweet truth!
Can you describe the greatest joy in creating this self-made album?
There are very few songs written about show business, and to write an album that's coming from your front-line experiences is beyond fulfilling. "You Gotta Love the Life" is a song that I couldn't have written a second before I did -- I have 45 years of this walk and it's a very specific point of view and it's fantastic to share that in tribute to the people that I've met and worked with along the way.
Who are some of your biggest musical influences?
The ones that locked in when I was very young through my teen years are immovable. I first heard Ella Fitzgerald when I was five, and all I wanted to do was sing like her and then became a songwriter. The excellence of songwriting was at such a peak in The Great American Songbook, Vol. 1 and I was privileged to study with Paul Simon when I was 17 -- an excellent songwriter. I know what the standard is that I'm striving for. It keeps me going and is a grand way to spend my life.
I read that your students helped inspire the idea of crowdfunding for your album. Was that that experience like?
I'm an adjunct professor at the University of Southern California. My students came in with their projects and they told me about crowdfunding and said, "You should do that and we'll help you!" One of my students became my project manager, and others were part of my street team. They walked me and my management into this new world and was so fascinating. They were a part of the journey and there were all kinds of magnificent guest artists that were on the album – including Dionne Warwick, Stevie Wonder, the late Joe Sample, and the late Hal David. Terry Wollman co-produced the album, and it was incredible for the students to be part of all these adventures and for Citrus College where I recorded the album. The energy kept going back and forth and was wonderful to have my students observe as we were making music. It was unbelievable and was one of the greatest and most liberating experiences of my life.
Do you have any advice for the next generation as they navigate the industry?
They are in a very new and unfamiliar version of the music industry than when I started at their age. My advice is that one must be open-minded, open-hearted, and say yes!
Tickets and information are available at https://54below.com/events/melissa-manchester/