Prototype Festival 2015: Composer Ellen Reid Talks About Her New Opera 'Winter's Child'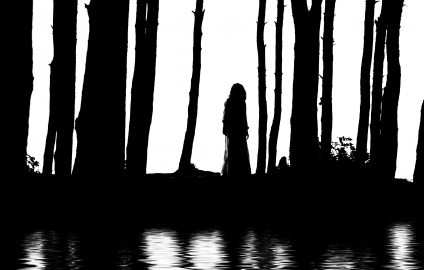 Composer and sound artist Ellen Reid, whose opera Winter's Child is part of the 2015 Prototype Festival produced by Beth Morrison Projects, is keenly observant. As we meet up at Amy's on 9th Avenue for a chat, I notice the depth to which she takes in information and makes connections. After shaking hands, she asks if my blue handmade glass necklace is based on the Turkish Hand. As a storyteller, I know the story of the Hand of Fatima, aka as the Hand of Miriam in the Jewish tradition and I was immediately captivated by this young woman's interest in mythology. As we speak about her work, it is obvious that the "big" stories and myths fascinate her, permeating and influencing her music.
How did you become a composer?
I started writing music my last year in college, I've only been composing for about 12 years. I was getting a degree from Columbia in musicology and thought my path might be race relations and music. I received tremendous encouragement from my composition professor for a piece of computer music I wrote and started composing for dance companies and theater. Then I got my MFA in composition from California Institute of the Arts and found myself wanting to write music that was less background and more in the forefront. So I began writing operas, scores for films and creating interactive installations. I really like collaborating with other artists. My goal is to write music for all the senses. I love adding visual elements to a score.
The Prototype Festival/Beth Morrison Projects is presenting a work in progress workshop of your new opera Winter's Child with a libretto by Amanda Jane Shank. The publicity states it's a Southern Gothic story. What was the impetus for creating Winter's Child?
Winter's Child began 5 years ago, when I was in graduate school at California Institute of the Arts and has been through a lot of development. It is based on an original family story and since my family has roots in Eastern Tennessee, maybe that's where the Southern Gothic came from, but I didn't set out to write in that genre. The story goes back to my great grandmother and other family members; to their ability to see ghosts, have visions and overcome curses. It has to do with the idea that no one is good or bad, we are all a mix of light and dark. Lots of mythologizing!
Speaking of myths, in reading the Prototype Festival's description of Winter's Child, I am reminded of the Greek myth of Persephone and Demeter.
At the beginning, I was definitely interested in that myth, but as the opera developed, it took a different direction.
What is your creative process? How do you start a piece of music? What comes first?
I get flashes of certain moments as I begin a piece and that's what I write first. It's not a linear process and it's less specifically musical and sometime more about the energy of these moments. I get inspiration in a lot of ways, sometimes it is an image. For Winter's Child, an image for the ghost world was a large oppressive female choir and electronic sounds. My work is to begin to build around these moments. That helps with focus. Then the piece tells you what it wants to be.
Who and/or what are your musical influences?
That question's impossible to answer, because each piece of music I write the influences are different. I grew up listening to popular music, Motown and Top 40 and singing in a Methodist church choir. Certainly influences in the writing of Winter's Child were composer Arvo Pärt's choral music, singer/songwriter Joanna Newsome and metal music.
What is your creative/musical vision for yourself in 10 years?
I can't even see what that would be! Mostly my dream is to make really good art outside of that which already exists. Writing for vocal groups, orchestras, individual artists and collaborating of course. Writing new operas, oratorios, soundscapes, installations and everything in between! When opportunities come up, I want to just do my work really well and try not to over commit. I have a list of people I'd like to write for, so I want to develop those relationships. This year is the first year I've been able to support myself with my income as a composer. I'm very grateful to be able to write music for five hours a day. One new project I'm working on is a piece that connects to Appalachian music and it's been lots of fun to write for a banjo.
Oh and in 10 years I want to be a better cook and be singing in a choir!
Don't miss Winter's Child, January 13 and 14 at Trinity St. Paul's Chapel.  The Prototype Festival continues through January 17.