Interview: Broadway's Trent Armand Kendall On His New Musical LOUIS-AND-ELLA! and Inspiring Hope Across the Nation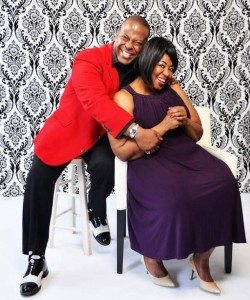 What our world needs now is light, hope, and pure bliss, and Broadway's Trent Armand Kendall has answered the call with his new musical, LOUIS-AND-ELLA! The musical reunites jazz legends Louis Armstrong (Trent Armand Kendall) and Ella Fitzgerald (NaTasha Yvette Williams) in heaven and features more than 25 hit songs, including "Something to Live For," "What a Wonderful World" and "A Tisket a Tasket."
StageBuddy had the wonderful opportunity to catch up with Trent Armand Kendall as his new musical sweeps the country and heads to New York City for one night only on March 5th at the Cutting Room.
How has the tour been going so far?
It has been going well! We've learned something new with each performance and because we are moving around, it's been great to see the different audience's reactions by city. It's really good information to have.
Have you been dreaming of writing and performing a musical like this for a long time?
I went to school for theater and performing, but also for creative writing and journalism. What first made me put pen to paper, was when I did some reflecting in my twenties and early thirties. I had been developing this career as a performer, but that voice of a writer in me had not been addressed. I started to think about what I would write about and what spoke to me. I started choosing material based on that – this was over 15 years ago. It's been a slow boil because I was involved with other projects and had to carve out time for LOUIS-AND-ELLA! If I was going to star in the show, I knew that I had a little more living to do and wanted to mature as a man and a performer. A couple of years ago, I felt ready and have been pushing forward.
What do you want audiences to understand about Louis and Ella's partnership and friendship?
They each had 40 year careers and the two of them recorded over 50 songs together. I had to decide what version of their lives I would tell and knew I wanted to talk about them later in their lives reflecting on their younger days.
The best thing about this show is all I need to say is "Louis and Ella" and people know who they are, but I'm curious how you pull in the younger people? This is not about taking the audience back in time, but creating a space in heaven where I wake Louis and Ella up today and this story is happening now. It's a re-telling of their songs today.
Can you describe what you love most about their music?
I knew that if I could re-create their friendship, camaraderie, and mutual friendship and have that come to life on stage, then the music would follow. These songs told stories and have these classic melodies that really said something. I love telling the stories in these songs and love the audiences absorbing every word. I always aim to create a space where audiences can enjoy listening, but also can apply the lessons to their own lives.
Who have you seen in your audiences – lifelong jazz fans or have you seen new generations discovering this music?
You do see the lifelong jazz fans and then you see people who are more still and taking it in. it's so exciting when someone brings a child or pre-teen and you know that they are receiving all this information for the first time and that they are completely on board.
This music transcends generations because the themes are so poignant. What themes seem to bring the generations together?
The show ends with "What a Wonderful World." There's something in the storytelling that I've attached to this song and people on their own have with what's going on in the world today. Louis' basic message is if we just concentrate on love, it's still a wonderful world. What I'm finding out is that people are picking up on the hope and want to get to that place of optimism.
There's really something for everyone. The show is fast-paced, funny, and heartfelt. LOUIS-AND-ELLA! will challenge you to think -- it's not just sitting back and getting facts about these performers. It's an opportunity for the listener to see that these two legends aren't so different than the rest of us.
For tickets, visit: www.thecuttingroomnyc.com