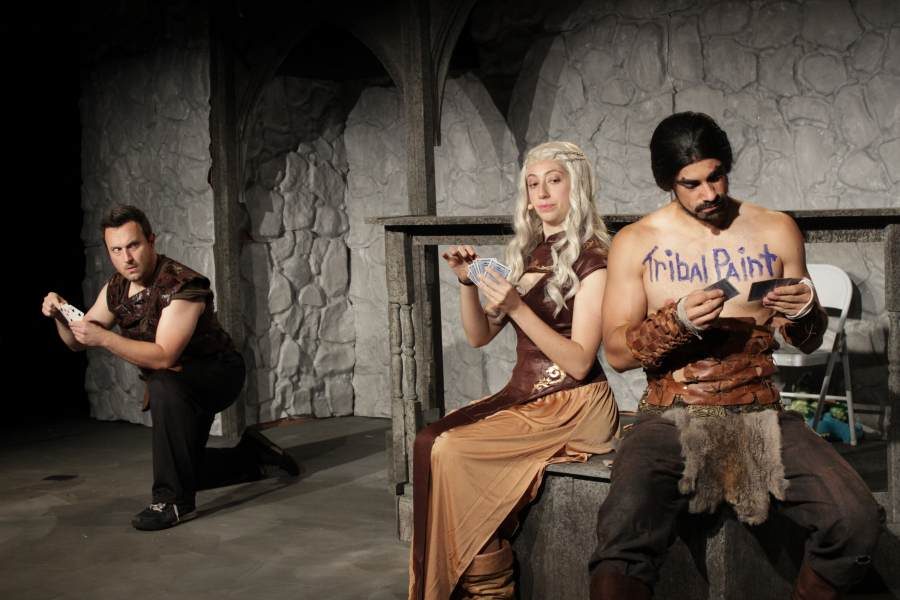 After stepping up the musical parody genre with Lost: The Musical, creators Steven Christopher Parker and Steven Brandon tackle another beloved part of the cultural zeitgeist, Game of Thrones. In their hilarious rock musical parody, Game of Thrones: The Rock Musical - An Unauthorized Parody, the Stevens hilariously and mercilessly rip into the completely mock-worthy characters, make them break out into song and dance, and give the ultimate wink wink, nudge nudge to the show's superfans. In an interview, Director/Writer/Producer Steven Parker talks about lovingly taking the piss out of his, and the universe's, favorite TV show.
StageBuddy: When and how did the idea for Game of Thrones the Rock Musical: An Unauthorized Parody come about?
Steven Christopher Parker: Three years ago, [Writer and Producer] Steven Brandon and I created Lost: The Musical, which parodied all six seasons of the hit ABC show and turned it into one two-hour musical. It was thrilling, exciting, completely exhausting, overwhelming and we vowed to take a long break from musicals after we finished. Of course that break didn't last very long because soon after we knew that GoT had to be our next parody to tackle. We're mega fans and just had the itch to explore how we could flip GoT on its head.
SB: Was it daunting to parody a show that is loved by so many? Do you ever get any irate super fans coming up to you to nitpick the show?
SCP: It was extremely daunting. We were very concerned about what the fan response might be. GoT fans are very protective of the world of Westeros, and we wanted to honor that devotion. We have had many mega fans come to the show who experienced it from completely different ends of the spectrum. Luckily the majority of them are over the moon thrilled with how we transformed their favorite show. Also, we've had lots of people come who have never seen GoT who still enjoyed the show and saw it as a fun introductory course.
SB: When you watch the show, do you find yourselves constantly making fun of it? Or can you take it at least a little seriously?
SCP: I hold a deep-seated belief that life isn't meant to be taken seriously. Being a comedy musical specialist I of course love to find ways to find the humor in even the darkest and most dramatic areas of film/TV. That doesn't mean however that I don't completely enjoy the art and beauty that is GoT. Our show is more of a passionate love letter to our favorite show (with hundreds of jokes sprinkled in).
SB: Was there a reason you set your show in the first season/book? Was it tempting to incorporate elements of the later seasons/books in this show?
SCP: When we began writing the book our original intention was to include elements from every season of the show. The only problem is that to honor the source material we would have to include dozens upon dozens of characters across elaborate locations and endless plot lines. The show would have ended up being four hours long with 30-or-so actors. It became impractical. So we focused our energy into season one/book one so we could tell a complete story with a clear beginning and a satisfying (albeit violent) ending. Of course we couldn't help but add in a lot of jokes referencing certain events from other seasons.
SB: Do you think book six will ever come out? Does it even matter at this point?
SCP: I trust in the Gods old and new that "Winds of Winter" will come out! It must! IT MUST!
SB: Is there redemption in store for Cersei Lannister?
SCP: But of course! She's the most villainous, calculated, cold and brilliant woman in Westeros. We love to hate her, and we hate to love her. But I do believe that in these last few episodes she will find lasting redemption, even if it means a tragic end.
SB: What's next for you two? What projects are you working on?
SCP: I do believe that after our run concludes (whenever that may be) we will take a nice long break full of sleep and take out Chinese food. But the draw of parody musicals doesn't allow us to be away very long. I suspect that next we may explore a strange little town somewhere in Indiana.