Interview: With 'Bastard Jones' Marc Acito and Amy Engelhardt Are Doing Musical Theatre for a Good Cause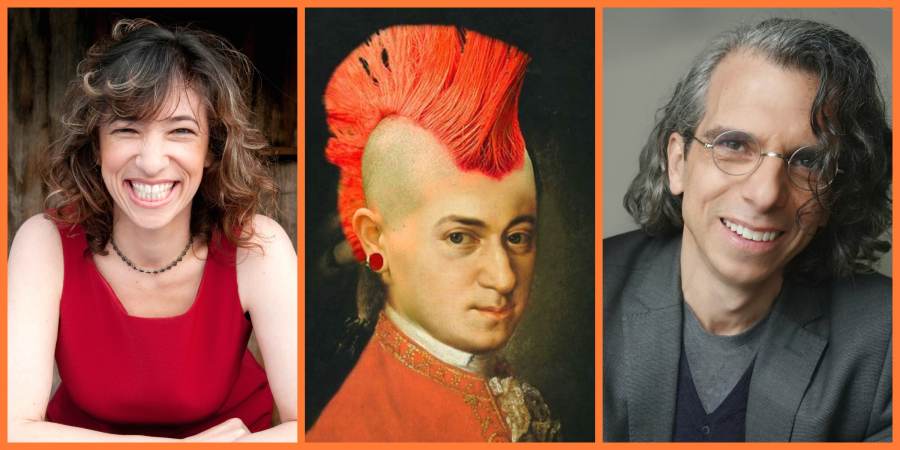 Henry Fielding's The History of Tom Jones, a Foundling caused such a stir in 18th-century England that it was blamed for a natural disaster, its tale of a bastard trying to find happiness above all costs seeming immoral during a time when virtue equaled utmost societal correctness. When a couple of centuries later it was turned into a motion picture, it won the Oscar for Best Picture and became one of the most iconic films of a decade characterized by sexual revolution and the pursuit of pleasure. With their musical Bastard Jones Marc Acito (director, book writer, lyricist) and Amy Engelhardt (music and lyrics) seek to bring the novel's timeless themes to a modern audience by focusing on the idea of being disavowed and excluded by others. In order to mount a production of their delicious-sounding musical, they've started a GoFundMe campaign that will allow them to do the show as they envisioned it, and will make it possible for the production to be nonprofit, as all royalties will go to Cyndi Lauper's True Colors Fund. I spoke to Acito and Engelhardt about their exciting project.
Why did you want to make a musical of Tom Jones?
Amy Engelhardt: (Laughs) For starters it's not the Welsh singer, although that would be supercool if it was because he's amazing. The book might be from the 1700s but it's as relevant now as it was then. Thomas Jefferson used it as a reference when he was working on the Constitution, and the founding fathers used this book because it was about the pursuit of happiness. At the time being a bastard was the biggest basis for discrimination, and that isn't a thing today?
Marc Acito: When I approached Amy we were still reeling from Proposition 8 in California, the gay marriage debate, and I saw in the piece the DNA for the culture wars. What has become evident in the last year is how relevant it is. After we got gay marriage I thought we'd get a more progressive agenda and our story would be irrelevant, but then Trump got elected and it peeled the mask off, all this seething hatred came to the forefront, so we realized how important it was to put out a message of multicultural diversity.
You wrote Allegiance and when I watched that on Broadway I was thankful it was such a time capsule, and yet here we are again afraid that we might see internment camps for Muslims or Latinos!
Marc Acito: I was talking about this with George Takei recently, how not even a year ago we would've thought how necessary the message of Allegiance was. We assumed it was something we wanted to remember so we wouldn't repeat it, but it never occurred to us we might actually repeat it. It's shocking to think it would happen again. We are mission driven artists, the pieces I'm working on are instruments of social justice, and presenting a view of the world that is not just what I would like to see, but what I see. In Bastard Jones we have an America that looks like America as opposed to the current administration.
The way the show is described on your GoFundMe page makes it seem like you're borrowing more material from the movie version than the Fielding novel, is this the case?
Amy Engelhardt: Actually we stick closer to the novel, which is what we had to do because the novel is in the public domain, so we can't use anything from the movie. Our version is very different in its focus, we're more true to the spirit of the novel. The movie won the Oscar but it is a product of its time, the music was a very little bit Austin Powers-y, and there is a famous overly sexualized eating scene. Our version has modern music, and even though Marc took some liberties with the characters, the spirit is very much in the period. It's a period farce with a bouncy, rock score.
I haven't read the novel, but I've seen the movie and I remember how impressed I was about how the female characters were so sexual and horny, which was refreshing. Besides exploring the subject of bastards, are you also focusing on developing the female characters so they can explore their sexual desires?
Marc Acito: Absolutely, there's a song by the female protagonist called "A Tingle," which is about a feeling she had deep beneath her corset, and all those restrictive clothes. In the second act we have a song called "The Language of Love," which is about learning the syntax of sin. If I'm not mistaken it might be the first song in a musical to actually reference the clitoris. We are very proud of that.
That's a really interesting observation too, because in the 1963 film the director and screenwriter used the story to deliver a message about sexual liberation for men and women. It is "shagtastic", it's very much of that zeitgeist. I never viewed the film through a feminist lens, Amy and I approached our take that way, but we never saw the film like that, and you're right.
Amy Engelhardt: It's also interesting because there is so much hypocrisy within the story because a lot of it is about men's attitudes towards women, Tom himself is a very sexual guy, but he's not a predator. He's all about the pursuit of happiness, he's just as happy in bed with a woman, as he is eating a pie, while everybody else seems very predatory and they pretend they're taking care of women. The female characters themselves aren't written as victims, except when society imposes something on them. In the second act of the show we see a character who is kind of like Glenn Close in Dangerous Liaisons meets Jane Krakowski on 30 Rock, she's a supervillain who is also goofy, she steers the action of the second act, and a lot of it is based on her sexual desire.
You've worked on this for quite some time now, so what would you say has changed the most about the way you work together during this time?
Amy Engelhardt: We also had to take time off for various projects.
Marc Acito: Amy and I had an instant rapport and understanding, we wrote this side by side, we had an instant Vulcan mind meld, to use a Star Trek term which after working with George Takei I'm wont to do, I think what has changed the most is the deepening of our trust in ourselves and each other. This is an oddball piece and it took us a while to find the right producing partners to do this show, what really made it happen was us deciding we needed to make it happen ourselves. We're going to take an active, entrepreneurial hand in making sure the process comes to life in our unified vision. We became frustrated of trying to explain it to other people when it's so clear to us. We have become really empowered.
Amy Engelhardt: I couldn't describe it better, we had to turn down some opportunities along the way. Marc and I share a vision and a lexicon, we work really well, and give each other space to be playful. We trust each other completely.
Before you met in person what was the one thing about each other's work you wanted to talk about with each other the most?
Amy Engelhardt: I wanted to ask him if I could make a musical of his book (laughs). We met in a  funny way, five different people had told me I needed to read How I Paid for College, I did and couldn't put it down, I was screaming with laughter. From the book jacket I realized Marc Acito grew up two towns away from me in New Jersey, and we had met for one day in 1982 as teenagers. I had a day off from my school, so a geek like me goes to another school, which happened to be his school. I sat with the drama geeks who were doing Godspell and I fell madly in crush with the guy playing Jesus who happened to be Marc Acito. I wrote about him in my diary and then completely forgot about it. By the way he said I couldn't make a musical of his book.
Marc Acito: One of my friends loved The Bobs, so I knew of Amy through my friend. Amy approached me when I lived in Portland where she was doing a show. I saw her show knowing that the rights to my book weren't available because it was in development to be a film, so I sat there thinking we should work on something else together. So they get to the finale and do a cover of Cream's "White Room", in this weird version that combined a cappella with a heavy metal/baroque approach, and then Amy proceeds to do Eric Clapton's guitar solo and the strangest thought came to my mind: Tom Jones. Tom is the voice of modernity, Amy and I say he's an electric guitar in a harpsichord world, so basically I saw the piece in its entirety in front of me. Amy and I had a four hour lunch the next day...
Amy Engelhardt: I missed my plane. I arrived grinning madly and told them I needed to be on the next flight because I'd had a personal emergency. I knew this would be something big.
As of recently have you found yourselves wondering why you're making art in such a disastrous world?
Amy Engelhardt: For me it strengthens my commitment, music is the oasis in such a crazy world. I feel strongly that art can shape people's perspectives, art isn't only an expression of the self but it's also critical thinking. You create a different vision of the world and invite others to see it. Marc and I are committed to making art that inspire social change, but we also want to make entertaining pieces, it's important to be both.
Marc Acito: Ditto.
Amy Engelhardt: It's amazing to be able to touch people. I remember doing gigs with The Bobs after 9/11 and people thanked us for allowing them not to think about the world. Conversely I got the best email ever when I read someone say one of our albums got someone through the fall in NY. Thinking about that cheers me up, the idea of reaching people like that, and if you can make them laugh, wow that's the brass ring.
What message would you like to send to people so they can contribute?
Marc Acito: No donation is too small, we're truly trying to create a movement, we want to support a mission and we need partners to do that. We're creating a model I've not witnessed before, the entire run of the show is a fundraiser for a charity.
Amy Engelhardt: We've waived our salary and royalties as well.
Marc Acito: 100% of the profits will go to Cyndi Lauper's True Colors organization and LGBT homeless youths. 40% of all homeless youths are LGBT because they don't run away, they're thrown away. This connects back to How I Paid for College, because even though I was blessed with a support system when I left my house, so when I look at homeless kids and displaced people - refugees, immigrants who are being deported - I see myself in them. This is a way to help vulnerable people who are in need, while still being able to have a fantastic experience, it's a hilarious show for a serious cause.
Amy Engelhardt: Everyone is "other" right now, which is ridiculous in this day and age. What we're creating is a family of people who are communicating a message of inclusion, and that's so cool!
Marc Acito: Come join the party!
For more information on Bastard Jones click here.