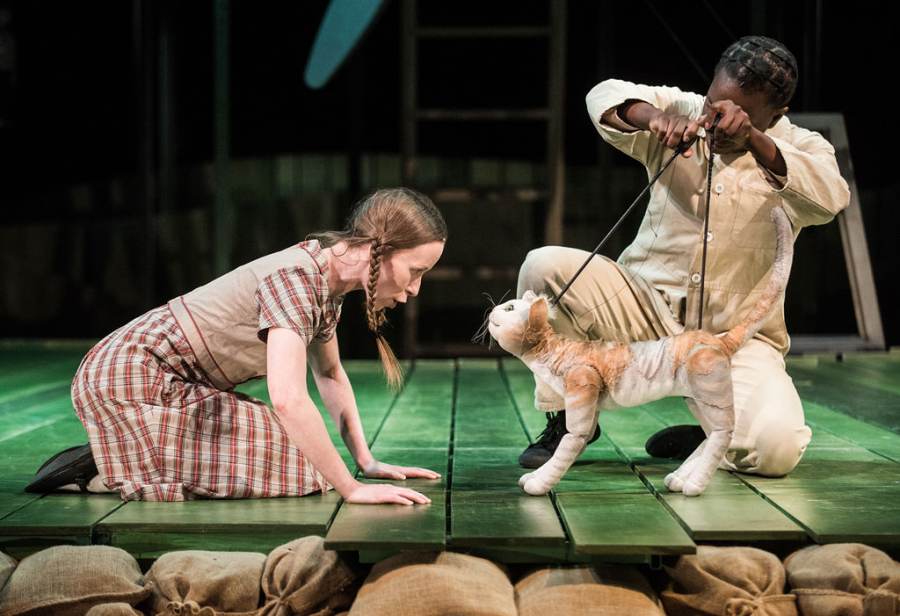 I am an ardent fan of Kneehigh, a magically innovative theater company based in Cornwall, England, having seen their unique productions of Tristan and Yseult and The Wild Bride, both based on ancient archetypal tales, and Brief Encounter, adapted from David Lean's 1945 film with a script by Noel Coward. I was therefore deeply curious to see how they would use their imaginative storytelling skills to theatricalize a true historical event in 946: The Amazing Story of Adolphus Tips, Kneehigh's newest show now playing at St Ann's Warehouse in Brooklyn.
The production is adapted from Michael Morpurgo's children's novel The Amazing Story of Adolphus Tips about a little girl, Lily Tregenza, and her cat, Tips, living in Slapton, a small seaside hamlet in Devon England during World War II.  When American soldiers arrived to practice maneuvers on the beaches as they got ready for D-Day ("Operation Tiger," which resulted in 946 casualties), English families were required to evacuate their homes. Amidst this chaos, Tips the cat went missing.  With their inventive spirit Kneehigh manages to create intimate portraits of the people in a sleepy village coming to terms with the war, meeting black people for the first time, and welcoming refugees and to create a heart-wrenching battle scene with old washtubs, toy ships and the superb lighting of Malcom Rippeth.
Directed and co-choreographed by Emma Rice, the Artistic Director of the Shakespeare Globe (she is also the former co-artistic director of Kneehigh), 946: The Amazing Story of Adolphus Tips is a rich theatrical family-friendly evening of story, music, dance and puppets, evocatively designed by Lyndie Wright and her daughter Sarah Wright.  Brilliantly woven together by co-adaptors Mr. Morpurgo (author of War Horse) and Ms. Rice, the story spans several generations and unfolds with whimsy and wide eyed joy as we follow the tender relationship that blossoms between Lily and an African American GI named Adolphus "Adi" T. Madison who vows to help find Lily's cat.  Add to this a motorcycle-riding granny, a supremely talented cast of actors who sing, dance up a storm and play a multitude of instruments and a multi-leveled set that includes an airplane, this Kneehigh show continually captures our hearts.
The cast is led by Katy Owen as Lily, played to perfection.  Her spunk and physicality brings to mind a British Pippi Longstocking.   Ncuti Gatwa as Adi along with Nandi Bhebhe as his somewhat silent soldier pal Harry (Ms. Bhebhe also does double duty as the puppeteer for Tips the cat) are marvelous, brimming with heart and some fast Lindy footwork.  The rest of the hard working cast flip back and forth between fully fleshed out characters including a brief sketch with Winston Churchill and Hitler.  The delightful Craig Johnson gives us a plummy accordion-playing matron among many other characters, and leading the band with his smooth vocals, Akopre Uzoh is a suave, wise Blues Man.  Musician Adam Sopp as Barry, Lily's sidekick and an evacuee from London, is wonderfully nerdy, Emma Darlow not only plays school teacher and Jewish French refugee Madam Bounine but some excellent violin and Kyla Goodey as Lily's mum is a joy.  Flitting between numerous well-crafted characters are Chris Jared and Artistic Director and founder of Kneehigh Mike Shepherd.
At the performance that I attended, there was a talkback afterwards with Mr. Shepherd, Ms. Rice and Mr. Morpurgo.  It was fascinating to hear them speak on Kneehigh's creative process for 946: The Amazing Story of Adolphus Tips.  Ms. Rice shared a bit on Kneehigh's collective exploration; how she'd send small groups of actors away to work on a particular part of the story.  When they came back, they'd present their ideas and Ms. Rice would make decisions as to what was "strong but wrong" and what worked and could be incorporated it into the development of the piece.  However, 946: The Amazing Story of Adolphus Tips is not only a stunning collaboration between Kneehigh's artists, it's also a collaboration with their audience each night.  946: The Amazing Story of Adolphus Tips demands an attention and a collective imagination from the viewer, making it a special theatrical treat.  St Ann's Warehouse is to be commended for giving Kneehigh a New York home!