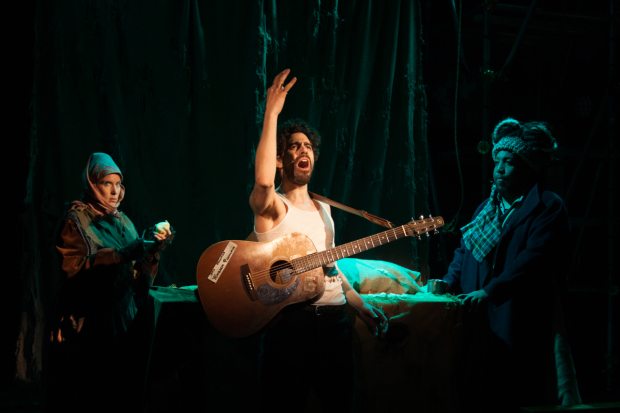 Those that cannot get tickets to the critical and commercial hit Natasha, Pierre and the Great Comet of 1812 can now travel to an appropriately run-down church to watch a grittier and dirtier display of composer Dave Malloy's talents. The music in Beardo is an unabashed and eclectic mix of styles and combined with a book and lyrics by Jason Craig that is uninterested in narrative clarity, the production is sometimes adventurous, sometimes euphoric, and sometimes downright ludicrous.
The story -- and I use that word loosely -- follows the life of Rasputin as a peasant and then an outsider in the Russian Tsar's court. The first act is a celebration of the rise of Rasputin, whose skills in magic extend to the bedroom -- song after song features simulated sex and flashing lights. The second act is a long ode to one of the most famous assassinations in history. It's not clear if familiarity with the historical events can illuminate. I imagine even for the Russian history buff, Beardo may be disorienting.
Just because the show is wild, though, doesn't mean there isn't considerable craft at work here. Craig can be surprisingly clever and sometimes the songs are oddly touching. The cast is terrific in its commitment to the eccentricity of the work. Brian Bock (Yusapoof), Liz Liemkuhler (Shack Sister/Woman), and Alex Highsmith (Tsarista) give notable performances and Damon Daunno shines as the protagonist. Daunno encompasses all the qualities needed for the rock star take on Rasputin – he's grunge, he's edge, he's dangerous and still, deeply vulnerable. Even when the book provides no context for the action leaving the audience bewildered, Daunno keeps us grounded.
Director Ellie Heyman creates a wonderful atmosphere for the actors to play in. The set design by Carolyn Mraz is purposeful, except for a "fake child" that hangs from the one of the PBC pipe rooms, seldom important, but constantly distracting. The lighting design by Mary Ellen Stebbins also uses what is available and is able to create spaces of action in the small church.
While stagecraft, the direction and the performances are specific and display a commitment to the weird world created by Craig and Malloy and transform the space of the church, the experience is perhaps not as transformative for the audience. The work is subversive to the traditional theatre, but it doesn't grapple with the world at large. That is not to say that Craig and Malloy should make an overt political points, only to say that the work could do more to reach beyond; currently it rests, happily, between a brilliant idea and a wacky point of view.