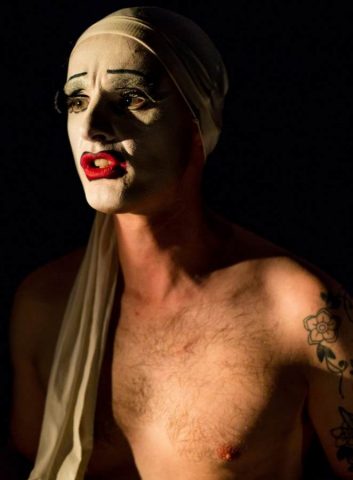 Dickie Beau's work is as personally spiritual as it is rigorous and inventive, as intimate as it is interesting, and his limited run at Abrons — part of the Crossing the Line Festival — was a must-see for those enveloped in the performance matrix as a space to make art. The art emerges and recedes, toys with shadow and mask and memory, and asks a great deal from the spectators. Blackouts, a solo meditation/homage, asks to be considered like a painting, experienced like a performance, and felt as one feels a sad conversation.
The work is separated into two eulogies: to Marilyn Monroe and Judy Garland. Beau honors these women by embodying them, creating a performance-scape to affect their drama, their solemnity, their loneliness (is the third assumed by the first two?), and lip-syncing recorded texts of them that reveal their intimacies. Beau performs these stars not as stars, but in exile: Monroe at her final interview, neurotic and afraid; Garland, recording herself, wondering aloud if anything at all is even worth it. The result is a ride through Beau's experience of these women, our experience of Beau feeling these women, and a dark amalgam of the transference of meaning from idol to artist.
Beau accomplishes this using every element of the performance matrix available to him. He is a performance artist in the most simple terms, and blends classic clowning with a most elegant drag with a sensitive and detailed design. His use of sound — when a phone rings or a typewriter clacks — is literary, everything else is to deepen our feeling relationship to this performer mourning these two stars. The work is structured so we move from observing Beau studying his idols, meeting Marilyn through an interview she had with an adoring reporter, to ultimately being in Beau's experience of Garland, inviting us to feel her as we feel him. No twitch or turn or recorded tape or projected text does not work to contribute to the dark, twisted conjuring. The entire art object works to create meaning and is genuinely exhaustive in taking advantage of the performance medium.
Beau's performance is a blend of stagecraft and performance presence. Many artists make work about their feelings, but few artists I've encountered communicate the contours of how they feel quite like Dickie Beau. The lip-syncing is the foundation of the performance, and he performs it seamlessly yet with a Brechtian alienation that suggests he is yearning to know these women as he wishes to know himself. He convulses with his performance space, so in a very real way the work is performing at his whim. At one moment a grand exit with an extended shadow and a dramatic flight of his arms; at another, the shaking at a typewriter as the clacking ceaselessly bellows; at another, Marilyn's arrival, in flowing dress, and she is really there, as sexy and confident as we know her but now, with all we've discovered, somewhat distant and bitter. His performance is not at all flashy, and in fact an unwanting eye can look past Beau's presence, effort, and dexterity; but like an oil painting, stay with it and the textures disclose itself.
Blackouts is a piece of performance art that is making the most of the medium. To see a lip-syncing work do all that has informed how I will consider the form henceforth. I expect the rewards will crash on to me at the most unexpected moments; just as the harrowing lessons of Guernica haunt me in my sleep, the reminder that I will die alone will forever have the powdered face of Dickie Beau. That lesson will resonate at the pace of his performance, and at the rhythm of his performing of it.