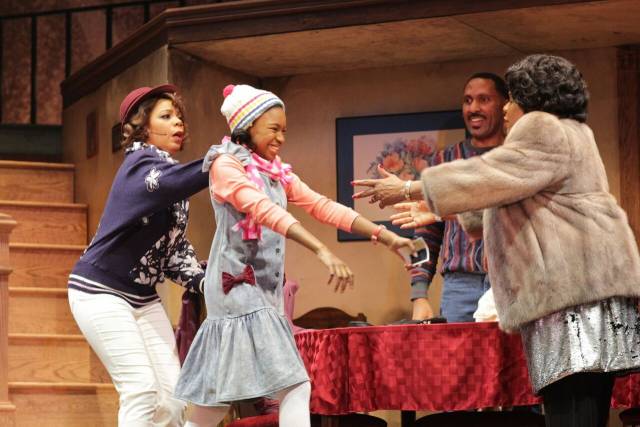 Although the title The First Noel implies that this musical is a Christmas story, in many ways it isn't. Rather it leans heavily on the drama, against a backdrop of spectacular music, songs and visual feasts. Set in Harlem in 1985, The First Noel, performed by the Classical Theatre of Harlem at The Apollo Theater, features original music and traditional holiday carols reimagined through pop, jazz, and gospel.
The musical follows three generations of a Harlem family affected by tragedy to tell a universal story of love and belonging. After losing her mother at Christmas, Noel, played beautifully by Ashley Ware Jenkins, returns to Harlem from Atlanta to sell her family home. There she is haunted by the memories of her family, and past hurts and turmoil are brought to the forefront as she is forced to relive her family's history of heartache. The dysfunction of the family is clear and not uncommon, with each family member having a different view and opinion on how to progress after tragedy; all the while the character of the young Noel, played by multi-talented Nia Bonita Caesar, puts forth an innocent view point free of grudges and history, wanting desperately to be able to celebrate Christmas in a home where holiday joy has been banned.
Directed by Steve H Broadmax III, each and every actor was simply fabulous, and convincingly embodied their roles so that one couldn't help but believe every moment unfolding before our eyes. They expressed fully formed relationships between the characters, though there were moments between scenes of the different generations of the family that didn't quite transition smoothly every time.
The book, music and lyrics by Lelund Durond Thompson and Jason Michael Webb culminate in a glorious theatrical production with poignant flashback scenes and downright extravagant spectacles that range from Gospel choirs to soul singing, to jazz, and even doo-wop. There are many joyous moments with a good sprinklings of jokes, but the show's most powerful, hair-on-the-back-of-your-neck-raising moments come when the talented performers are belting out magnificent songs supported by live music under the musical direction of Andrew Lederman, and thoroughly entertaining dance moves choreographed by Brian Harlan Brooks.
The set design by Daniel Robinson was nothing short of spectacular, very cleverly using split levels to show us more than one period of time in the same moment. The entire design team -- Rachel Dozier-Ezell (costume design), Alan C. Edwards (lighting design), Curtis Craig (sound design), and Andre Zachery (projection design) -- are to be congratulated for pulling together different time periods and for the richness of the production value.
Engaging, thoughtful, and powerful, The First Noel is sure to fill your heart with seasonal joy.