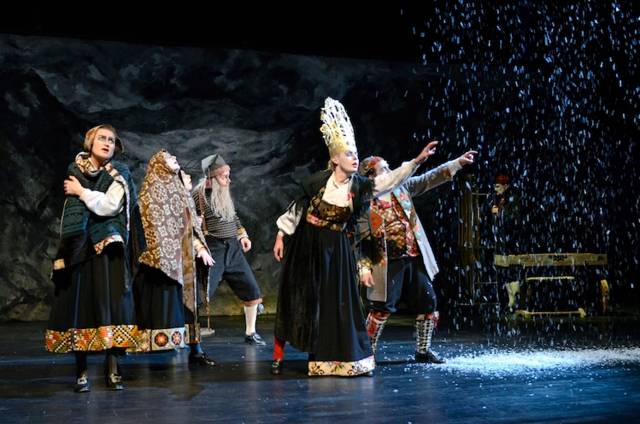 In what turned out to be a double-treat at La MaMa on March 2, the Grusomheten Teater company made its North American debut with their production of Henrik Ibsen's unfinished romantic opera libretto from 1859 called Fjeldfuglen (The Mountain Bird).
Based in Oslo, Grusomheten Teater takes its name—Norwegian for "The Theater of Cruelty"—and much of its style from the theories of Antonin Artaud, with an emphasis on physical expression rather than a reliance on spoken text. Never before staged, a little piece of curiosity for scholars and academics, Fjeldfuglen came to the attention of Grusomheten Teater director Lars Øyno in a conversation with Erik Edvardsen, director of the Henrik Ibsen Museum in Oslo, upon the release of a new edition of Ibsen's Complete Works in 2006. This new edition was notable for containing not only the dramatist's famous completed works, but also incomplete manuscripts, among these, what was originally supposed to be an evening-length opera libretto in three acts.
Fjeldfuglen represents Ibsen's only foray into opera and it is not known why he never finished it—of the intended three acts, he completed only the first and eight lines of the second. As would be expected, the story, though simple, contains a great deal of emotional depth. It is based on a medieval legend of a young woman on the farm Birkehaug in Justedalen who is the only survivor in the valley after the Black Death. Isolated from civilization, she is discovered several years later by an expedition from a neighboring parish who finds her as "shy and wild as a bird." One of those on the expedition breaks away from the rest and seems to fall in love with her, fascinated by her purity of spirit, untainted by societal conventions. As with Peer Gynt nature has a tendency to communicate through figures of folkloric fantasy, such as a trio of elfin girls. Unfortunately, the parishioner who has fallen for her is betrothed to another and the others soon come to reclaim him. He agrees to go back and marry his fiancée as long as they bring "the mountain bird" down too. Using the word loosely, it 'ends' at the wedding where the bridegroom is marrying his original bride, but thinking of the woman he met in the valley.
Grusomheten wisely does not add any text to Ibsen's, thus creating a strange sort of daydream effect that ends in a prolonged ellipsis. As with the sparse set—essentially a little tree and a wooden platform—and the actors' often slow, drawn-out movements, this ellipsis, which at first seems tedious, in retrospect forms a space in which to breathe and for the audience to fill in with their own imaginations. The actors of Grusomheten are all highly skilled in their movements and mesmerizing to watch. Their movements are enhanced by costumes inspired by bunad—traditional Norwegian folk costumes—and the actors look like they walked out of a painting.
In addition to the costumes, a strong nationalistic feel is imparted by the music. Composed by Filip Sande, the original score for this production uses instruments like the fiddle and langeleik joined by trickling percussion, glockenspiel, and flute. Sande's score is another wonderful tool for the audience's imagination and easily bewitches the listener into a distinctly Scandinavian pastoral time and place.
Altogether, Grusomheten's presentation of Fjeldfuglen is at once a curious artifact of artistic history and a sweetly sad piece of modern theater. It is a delight to make the acquaintance of both the company and the fascinating unfinished opera on this side of the Atlantic.