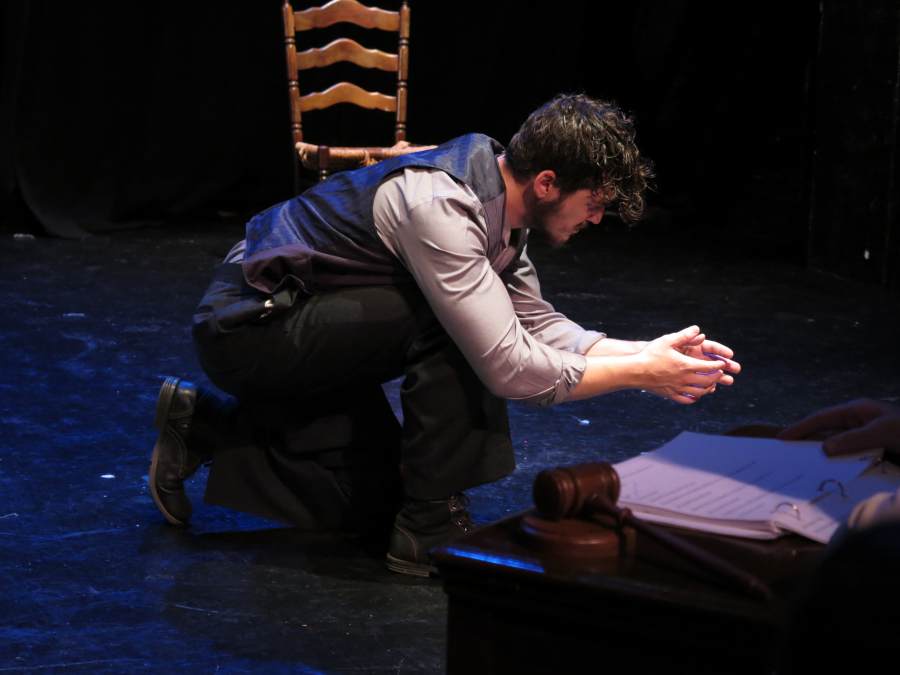 Guilty, by Icelandic playwright Hrafnhildur Hagalín, featuring as part of Theater for the New City's Dream Up Festival and directed by August Strindberg Rep founder Robert Greer, is a one hour courtroom memory play written in non-rhyming verse (translated by Salka Gudmundsdottir) and based on real trial transcripts. In 1837 on Iceland's north coast, a farmer's wife Jórunn (Ivette Dumeng) and farmhand Fridfinnur (Bryan Hamilton) stand accused of conducting an affair, even after Fridfinnur has raped her daughter Gudrún (Bailey Newman). Both Gudrún and her father Jón (Sean Hoagland), also Jórunn's husband, testify against the pair while an inexperienced judge (Mary Tierney - also the Narrator) guides the proceedings.
There is enough brooding and fretting at the start of this play to identify the accused as guilty. "There's no longer a path from me to you," says Jórunn, who's not afraid of finding the kink in a punishing forty lashes. It must get awful dull out there in the backside of beyond, with little to do but gut fish and try to keep warm. "So you have not shared her bed?" asks the judge. "When she asked me to," Fridfinnur replies, which is a fair assessment of what might appeal in such a barren atmosphere. Even pious, gentle Jón has his moments; "Sometimes, something would awaken in me, a perversion." When one actor speaks, the remaining cast members persist at looking very worried, except for Hamilton as fidgety Fridfinnur, who channels Christian Bale's Batman through his gruff speech pattern. This rapist and philanderer is so contorted with villainy that his eyes are damn near closed throughout. "Nature, what a beast," he grunts, blindly - beastily. It's a strange thing, even with dramatic license, when both the accused and the accusers describe the run of the day's inconsequential detail, the weather, the lay of the land, the minutiae of fish, when there are other more pressing concerns to be getting upset about.
While it may not be fair to kick a fish when it's gasping for air, the impulse to avenge this entangled hour is strong. At the very least, Guilty provides a lesson in fish gutting. "You put a hook in the mouth and slash all the way to the spine if you can," Jón advises his daughter Gudrún, whose life is wretched enough as it is, the poor mite. Tierney's narrator, standing up to separate herself from her seated judge character presumably, tells us what went wrong with this apparently notorious case by reading from cue cards. Seemingly, this is a memory play that not everyone wishes to remember. A line that echoes through the play, "four faces in the fog," is fitting, as in lost individuals wading through cut and paste memories; lost in translation perhaps. While some of the language is interesting, the play lacks build up and structure. It is difficult to say who should stand accused here, the playwright, the translator, the director, or certain members of the cast who chew the scenery despite there not being any. Regrettably, Guilty is one for the gallows.