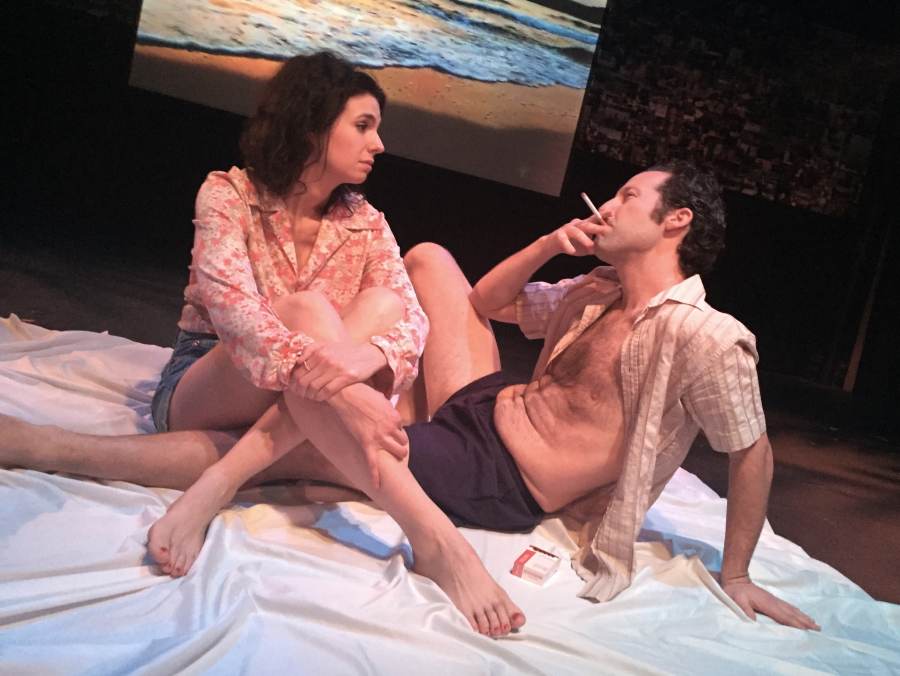 Everyone knows communication is key when it comes to relationships, but that rarely means everyone knows how to put that theory to practice. That's certainly the case in Loose Ends, as the silence between the play's central couple only grows through the years.
While traveling with her kooky childhood friend Janice (Melanie Glancy), Susan (Sarah Mae Vink) meets Paul (Loren Bidner). Though she offers to leave Janice, per an "if we meet someone" arrangement they'd agreed on beforehand, and continue her travels with him instead, the more practically-minded Paul instead returns home to start work as an English teacher. As fate would have it, they meet again on a bus to Boston, and this time they stay together.
Through a series of eight scenes spanning nine years, Michael Weller's play Loose Ends chronicles the ups and downs of Susan and Paul's relationship. From a Bali beach in 1970 to a New Hampshire cabin in 1979, the play celebrates the quiet moments of their relationship as well as the loud ones, their triumphs and their challenges.
Most problematic of those challenges is their inability to communicate and make decisions about their relationship, as they approach each new choice with an "if it happens, it happens" attitude. "I asked you first," Susan says each time Paul repeats a question back to her, apparently unwilling to provide an answer himself. They both shrug in response, and so the relationship builds.
Until they're faced with a choice that cannot just be left to chance: whether or not to have a child. As Susan struggles with the implications of the decision, one in which it's impossible to balance Paul's desperation to have a child with her own ambivalence about motherhood, the couple is forced, for the first real time, to make an active decision that will challenge their future together.
The eight-scene structure provides a wonderful framework within which the play examines a long-term relationship. The transitions between scenes (facilitated by George Allison's lovely set design) invite the audience to piece together the events of the last year and determine where the relationship now stands. However, some of the simpler moments the play explores, while lovely and insightful, don't provide enough conflict to sustain the play's lengthier run time.
This is in part because the play's conflicts are largely internal. The performances, directed by Terry Schreiber, thus become key in bringing out the unsaid conflicts – the loose ends, as it were. Sarah Mae Vink, who plays Susan, beautifully captures that internal struggle, lending each scene greater thematic significance.
Selina (Hui-Shan Yong), the best friend constantly caught between the two as they tell her everything they should be telling each other, brings the issue of silence to the play most directly. Hui-Shan Yong captures her growing frustration at being trapped between two people with lots to say and little said, fueling the play's internal conflict with explosive external force. Though the issue of "little said" threatens the success of both the relationship and the play itself, the escalating tensions between Paul and Susan result in a touching, if slow, examination of love.