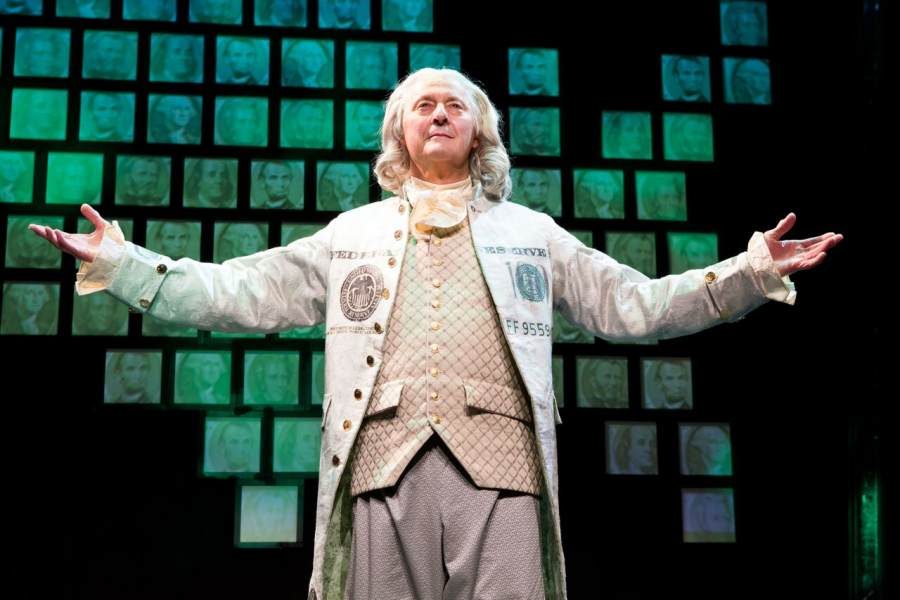 Watch out Alexander Hamilton! There's another Founding Father in town and he's full of witticisms and songs. Yes, Benjamin Franklin is currently appearing in an Off-Broadway musical called Money Talks that seeks to enlighten us with quotes gleaned from the great man himself. Closer in tone to Spamilton than Hamilton, with an upbeat score, this quaint little show spreads its wings from time to time and when it does, it soars.
David Friedman's award-winning songs have influenced our musical lives here in New York City and across the country for decades. Songs like "Help is on the Way" and "Listen to my Heart" (sung by the divine Nancy LaMott before her untimely passing) have been the anthems of our generation. With Money Talks, Mr. Friedman has given us some comic up-tempo and patter songs, along with more heartfelt ballads throughout his tune-filled score. Friedman's melodies, along with jaunty, frothy lyrics from Peter Kellogg help to create a quick 90-minute romp.
This lighthearted and comedic sketch of a musical (a bit of a take on La Ronde) has a very simple plot line. The unwitting Benjamin Franklin (in the form of a one hundred dollar bill or a "Benjamin") is passed from character to character during each scene. As the money passes hands, Ben Franklin (played beautifully by Ralph Byers) speaks to the audience directly, quoting himself and enjoying his legacy. Mr. Byers is a veteran of the stage, and his warmth and confidence are the central force of this quirky take on Mr. Franklin. Over the course of the play, two subplots unfold, but Franklin's view of the proceedings are the central focus of Money Talks. Mr. Byers excels in both the comedy of the piece and in its deeper moments. His "Does Anyone Hear Me Now?" was a powerful standout, perhaps the strongest material of the evening. Here, Money Talks takes on a deeper resonance, which I felt might have more fully informed the proceedings in another rewrite of this cabaret-styled script. When Franklin comments on the action of our current political landscape he keeps our interest; however, it's when he's simultaneously encouraging the characters on stage to be their best selves that we fully adore him. And here lies the strength of this lighthearted piece of theatre: that Ben Franklin still cares about us, and we understand that his legacy to us is to attempt to help us attain "the better angels of our nature."
Briskly directed by Michael Chase Gosselin (whose lovely Midnight at the Never Get, I saw last year) has chosen his cast wisely. The four-person ensemble is game, capable and very likeable. There is a lot to see and hear and the dizzying array of quick changes by the stalwart and immensely gifted cast helps the storytelling whisk along. No spoilers here, but during the course of the action, a young talent, Juanita, is supported by her father. The daughter, played by Sandra DeNise is a standout throughout the evening. She's the real thing, a rare find. Effortlessly funny and sweet, DeNise possesses a knockout voice, a big brassy belt (with some lovely, top-notch soprano notes to boot!). Brennan Caldwell (Man One) is dynamic and surprisingly vocally adept at playing characters way outside of his "type." His character work is noteworthy. As Luigi, the singing owner of an Italian restaurant, he is silly and funny and right on point. Man Two, played by George Merrick, had some broadly comedic moments but was especially fine in his more muted characterizations. He tosses off quite a respectable George Washington, though I preferred his audio-technician, who offers to help a young artist for free because he feels her talent is important. The touch of sincerity from all of these seasoned and engaging players goes a long way in this piece. Money Talks is an ensemble piece ultimately, a giddy, comedic turn, more fluffy than stuffy, and I couldn't have been more adroitly entertained. The crowd was giggling throughout the 90-minute musical and frequently applauded the onstage antics of a vibrant and multi-talented cast.
Kudos to scenic design by Ann Beyersdorfer, whose sleek and glossy take on the action helps keep things bright and engaging (great lighting by Catherine Clark) and dazzlingly fun. Costumes are gorgeous, Vanessa Leuck has done a first rate turn here (I envied a few of the flashier ones, a stunning blue sequined jacket, a period coat cut from cloth resembling American currency). Wigs by Bobbie Zlotnik are sometimes sleek, sometimes silly, but always help the story move quickly.
Please bring your happiest selves to see Money Talks. This bubbly version of Ben Franklin is not for those who are looking for deeper context or thematic structure; this is old-fashioned, good-hearted fun. It's a root-beer float on a hot summer day that sweetly satisfies. A quick game of checkers, not a prolonged game of Chess. So flip a coin: heads or tails, you'll win if you go see how Money Talks at the Davenport Theatre this summer.