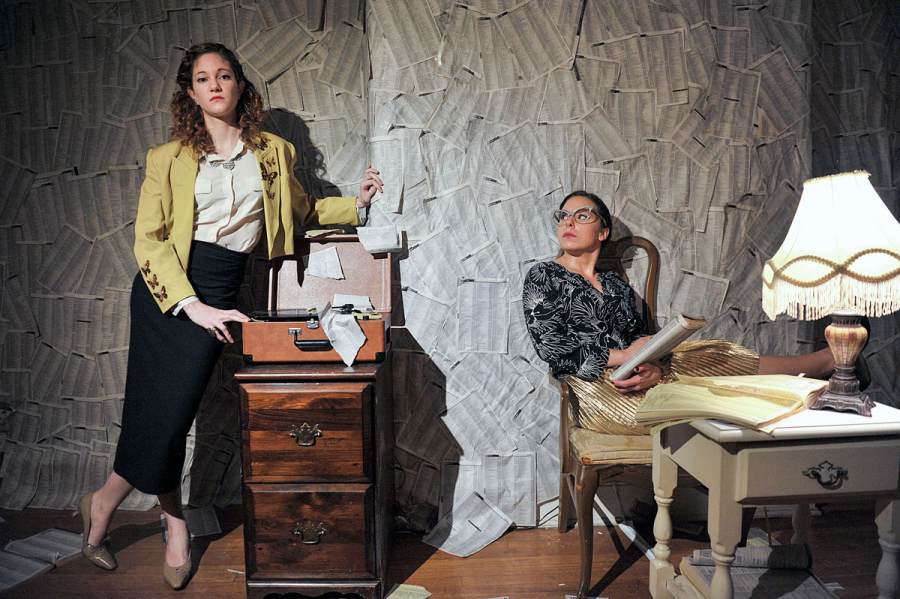 The dualities that exist within women and art are explored in A Ribbon About A Bomb, written by a team of 10 playwrights, created and directed by Tess Howsam, and currently playing in an abandoned Colonels Row house on Governors Island. Exquisite Corpse Company has crafted an intimate and immersive performance in which audience members can participate and go on a journey with the characters. Two tracks run parallel to each other with different actors playing the same characters: A Celebration of Love and A Service of Remembrance, or a wedding and a funeral. The two intersect at various points and follow a similar trajectory but each can stand on its own.
A Ribbon About A Bomb is ostensibly about the life of Mexican artist Frida Kahlo (Robyn Unger and Sara Ornelas) and, to a lesser extent, two of her contemporaries: Mexico-based surrealist artists Remedios Varo (Stephanie Chloe Hepner and Andrea Lopez) and Leonora Carrington (Mindy Escobar-Leanse and Blaire O'Leary). But the larger theme is the forced dichotomy placed on female artists to separate their womanhood from their art, and how these three artists rebelled against that.
Much of the play explores Kahlo's reasonably difficult life as a result of a near-fatal bus crash at the age of 18 that left her bedridden, with chronic pain, and forced to endure multiple surgeries to fix her broken body. Although this twist of fate caused her to abandon her plans to become a doctor and instead become a painter, she refused to be defined by it. Kahlo's tumultuous marriage to fellow artist Diego Rivera, as well as their respective extramarital affairs, also informs the narrative.
The setting on Governors Island is well-suited to the story as the actors lead small groups of audience members from room to room through the old crumbling house. Each room is artfully decorated, the lighting design (Sara Gosses) perfectly calibrated to the atmosphere of each scene. The result is something like Sleep No More but with less aimless wandering and more focused direction of where to go. With an original score by KG Garlington, the music is sung and played beautifully by the actors, both main and supporting (Christin Cato and Rosie Yadid). The dialogue is poetic and lyrical, almost like a surrealist painting itself.
Many dualities are presented in A Ribbon About A Bomb but prominent are woman vs. man, light vs. dark, creation vs. death. While these are simplistic dualities, the play shines a spotlight on these reductionist tendencies so that when Kahlo laments, "There is so much more to me than that," you can't help but feel that countless women throughout history have been underestimated all along, framed by these dualities. They are so much more than the sum of their surfaces.