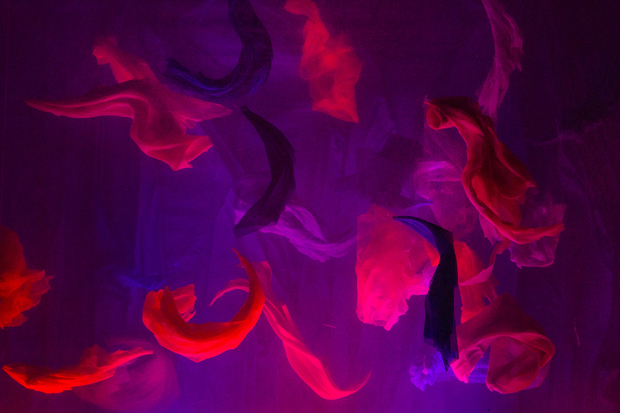 Twenty years ago, master puppeteer Basil Twist created and staged a gorgeous underwater dreamscape called Symphonie Fantastique. The concept alone, a puppet show inside an aquarium, is enough to boggle the mind. It turns out the execution is even more stunning as evidenced by the 20th anniversary production that is now being presented by HERE's Dream Music Puppetry Program as part of its 25th anniversary season. The result is a unique journey through a roughly hour-long production with a level of physicality so precise, you don't even see it.
Inside a 1,000-gallon water tank, colors and shapes come alive as five unseen puppeteers (Kate Brehm, Ben Elling, Andy Gaukel, Jonothon Lyons, and Lake Simons) move and manipulate objects of varying sizes, shapes, and materials through the water to create a series of tableaux set to the sonorous score of Berlioz's Symphonie Fantastique, played virtuosically by pianist Christopher O'Riley. Undulating through the water are feathers, scarves, amoeba-like shapes made to resemble various fish and sea creatures but that look more like Doctor Seuss creations. The use of colored dyes and glitter also help to create gorgeous, eye-popping images. It's art in motion, performance art combined with music, visual art, and whimsy. And it is simply breathtaking.
While the physicality of the performers is invisible to the audience, their efforts are immediately made apparent when they appear, clad in wetsuits, dripping water and sweat, to take their bows. The backstage tour on offer after the show is illuminating but some may feel the magic is spoiled by peeking behind the curtain so to speak. I found it fascinating, however, to see which objects were behind some of the more intricate sights, and to see how the puppeteers may have executed some of the movements.
Watching Symphonie Fantastique feels very much like being a kid again, mesmerized by moving images that have no obvious connection to each other, just to experience the bright, colorful sights and some beautiful music to move it.