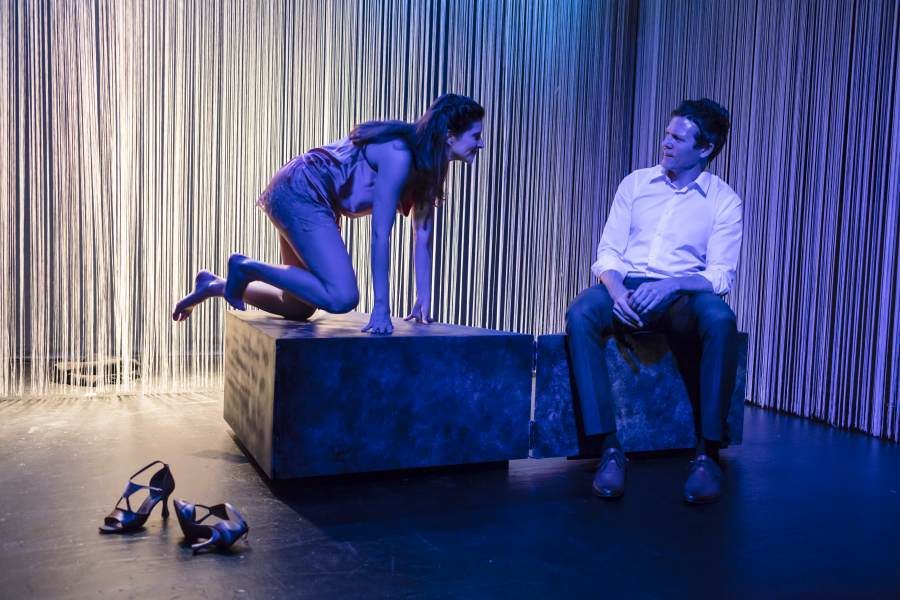 Sometimes, a play really surprises me. Tomorrow in the Battle, a high stakes drama on love and morality by Kieron Barry, directed by Tana Sirois, is an effective and fun piece of theater storytelling. Despite the fact that the play had little production design beyond the three performers telling this story, it worked. Without a doubt, this is a recipe for a long, flat night at the theater, but surprise, I had a very nice time.
The story is well written, and detailed enough to be a novella. Anna is an arms dealer faced with an ethical dilemma. Her husband, Simon, is a heart surgeon having an affair with high roller Jennifer, creating a moral quandary all of their own. For the most part, the play is told through monologues — at times veering toward soliloquy, at others like poetry — which creates three narrative tracks that weave across each other.
Though the trappings may feel pretentious to some and soap opera-y to others, the work finds a very fine balance of understated behavior and vivid descriptions, keeping the story in a genuine place, never bogging down the pacing. While the events of Tomorrow in the Battle probably won't stick with you, and certainly won't surprise you, the production is strong enough to create drama, and the denouement through the finale is a ride.
This is all possible because the story is performed very well. Ruth Sullivan, as the anxiety ridden and self-analyzing Anna, and Allison Threadgold, as the at one point self-confident and at the next psycho Jennifer, both told the story with a fine grasp of hand. Barry's language is poppy and posh-charming and his imagery paints lucid and grand environments; the actresses let the words speak with clear behavior and movement.
Patrick Hamilton, as the conflicted surgeon, drove the emotion of the work. His performance perfectly hit the note of understated intensity and elegant fragility, allowing the sex to be sexy, the lies to be guilt ridden, the confidence to be empowering, the faults to feel nearly traumatic. At one point, Simon must perform heart surgery drunk. This situation is almost bound to fail on stage, but Hamilton creates genuine tension due to his clarity, behavior, and connection to the situation; it's impressive acting and storytelling.
I attend the theater to see theater art, but for the price of admission getting this dramatized story is totally worth it. I am familiar with Sirois' work, so am a little surprised the play did not do more with the space, but every story needs to be told a certain way, and this story, to express its varied environs and images, needed just three actors saying words on stage. And it worked, so despite my misgivings, they were right.