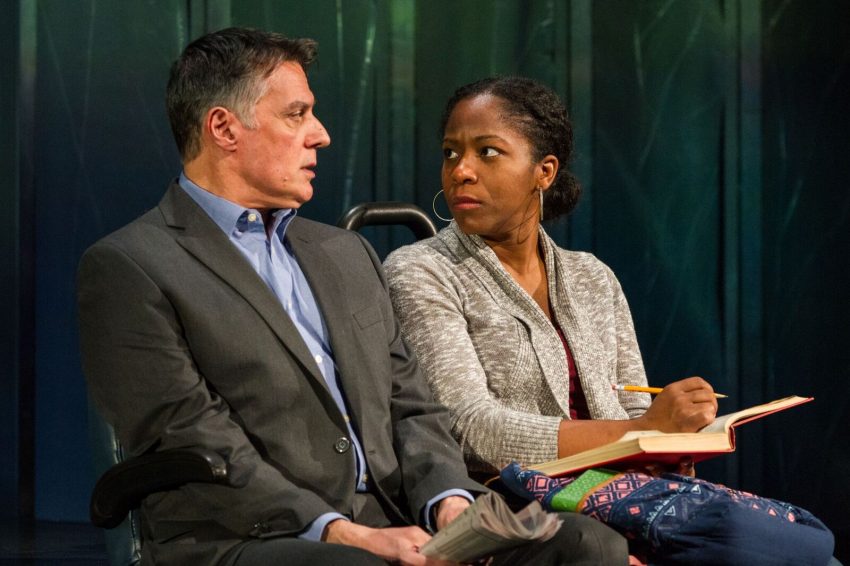 What happens when tragedy strikes a hitherto perfect life? When the privileged clash with those less fortunate? These are the questions that playwright Bruce Graham asks in his new play White Guy on the Bus, a social commentary now playing at 59E59 Theaters that aims to uncover the roots of prejudice in its main characters' motivations.
As a colleague describes him, Ray (Robert Cuccioli) is a "numbers man," and though he hates the title and often wishes to sell "everything" and live a simpler, Thoreau-inspired life, his wife Roz (Susan McKey) has a more practical mind. She's a teacher at an inner-city school, and she loves her job. Though she copes with the difficulties of her job through dark humor about her students' behavior and challenges, she is dedicated to helping them, even working one-on-one with particularly struggling students on her own time. This year, she's helping a 10th grader learn to read, though she can tell that he's growing frustrated.
Ray and Roz frequently spend time with Christopher (Jonathan Silver), whom they've known since he was a child, and his wife Molly (Jessica Bedford), a guidance counselor at an all-girls private school. Roz often clashes with Molly over her liberal ideology, which Roz, because of her professional experience, sees as naïve. Sipping wine in Ray and Roz's lovely suburban garden, the two couples argue about issues like white privilege, racism, and how to best help and represent the oppressed.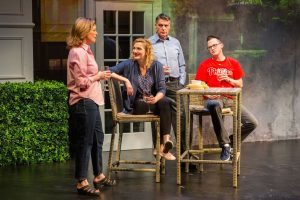 These double dates are punctuated by Ray's mysterious rides on the titular bus, which he takes from the suburbs to a state prison and back without ever getting off. On these seemingly purposeless rides, he befriends Shatique (Danielle Leneé), a young woman studying to be a nurse, whom we learn takes the bus every Saturday to visit her brother in prison. Thanks to scenic designer Paul Tate DePoo III's fluid setup, the play moves easily between these scenes, leaving the audience wondering how they're related – until the grimly shocking reveal at the end of Act I clarifies the dark purpose at the play's center.
Under Bud Martin's skilled direction, the performances bring the play's central conversations on race and privilege to life. As Roz, Susan McKey particularly shines in this area through her character's sharp humor and deeply experienced views. Jessica Bedford plays off her well, leaning into Molly's sweet, if naïve, approach to the conversations.
At times, the conversations within the play itself become overshadowed by its dramatic plot, as some of its twists feel too overstated to be authentic. However, through the characters' different approaches and responses to dealing with the play's twists and turns, those underlying conversations manage to ask tough questions of them, and though they aren't always able to answer, it leaves both its characters and its audience with plenty of food for thought.