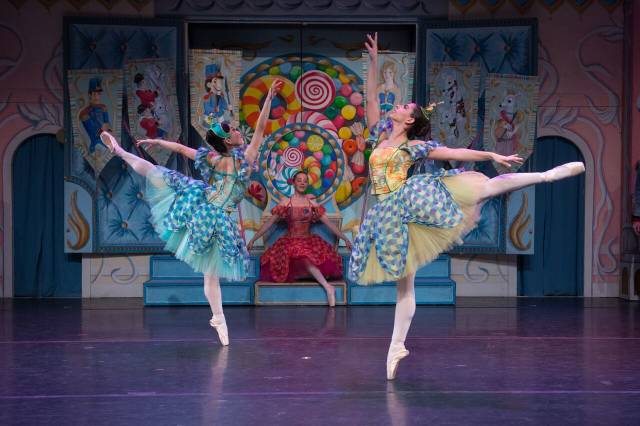 Choreographer Keith Michael and New York Theatre Ballet once again present their charming one-hour children's version of the holiday classic, The Nutcracker, at Florence Gould Hall. Performed by a large cast of professional dancers as well as children from NYTB's Ballet School NY, The Nutcracker is sure to dazzle and delight adults as well as the little ones.
The story begins, as always, on Christmas Eve in the Stahlbaum's grand household, where Marie (Amanda Treiber) and her parents (Mayu Oguri and Joshua Andino-Nieto) welcome Marie's Godfather Drosselmeyer (Mitchell Kilby) and his nephew Nathaniel (Daniel Salas) to their holiday festivities. Marie is enchanted by Drosselmeyer's gift, a wooden nutcracker doll dressed like a soldier, dancing with it and eventually falling asleep dreaming of her beloved new toy.
The subsequent dream sequence is all bright colors, sparkling snow and sumptuous sweets. The battle of the mice is led by Queen Mouserinks (Giulia Faria), who is defeated by Marie and the Nutcracker Prince (Salas). The living room then transforms into the Land of Snow with projections of snowflakes on the walls (Alex Vasquez Dheming). Marie and the Prince perform a sweeping pas de deux while dancing snowflakes and frost (Faria, Carmella Lauer, Alexis Branagan, Amanda Smith, Erez Milatin, and Carlos Alonso) swirl around them.
The Land of Sweets is every bit as delicious with a dance by the Sugar Plum Fairy (Oguri) and her Cavalier (Andino-Nieto) surrounded by the Sugar Plumlets (performed by Ballet School NY students). A series of Divertissements are performed for Marie and the Prince, who hold large cups of sweets while they watch the ensuing delights.
The Spanish dance (Smith) is fierce fun and Arabian Shadows (Guyonn Auriau/Lauer and Alonso) is gorgeous. The Chinese Chopsticks (Faria, Jasmine Ward/Monica Lima) dance with life-size chopsticks, using them as stilts as they gallop around the stage. The Ballet School students perform Russian Boules with giant bouncing balls that they bounce, roll around on and juggle. Harlequin (Milatin) and Arlequina (Branagan) infuse humor as they use the droll Drosselmeyer in their act. The Marzipan Shepherdess (Auriau) has trouble herding her Marzipan Sheep, so she resorts to using a wolf mask to get them in line. The beautifully danced Waltz of the Flowers (Lauer, Faria and Smith) is the perfect lead into the Grand Pas de Deux, performed majestically by the Sugar Plum Fairy and her Cavalier.
The costumes (Sylvia Taalsohn Nolan) and set design (Gillian Bradshaw-Smith) are nothing short of amazing. Gorgeous colors, bouncy tutus, and cleverly changing sets are used throughout the ballet. The magic is felt throughout the performance, made possible by the entire cast and crew of The New York Theatre Ballet's The Nutcracker.