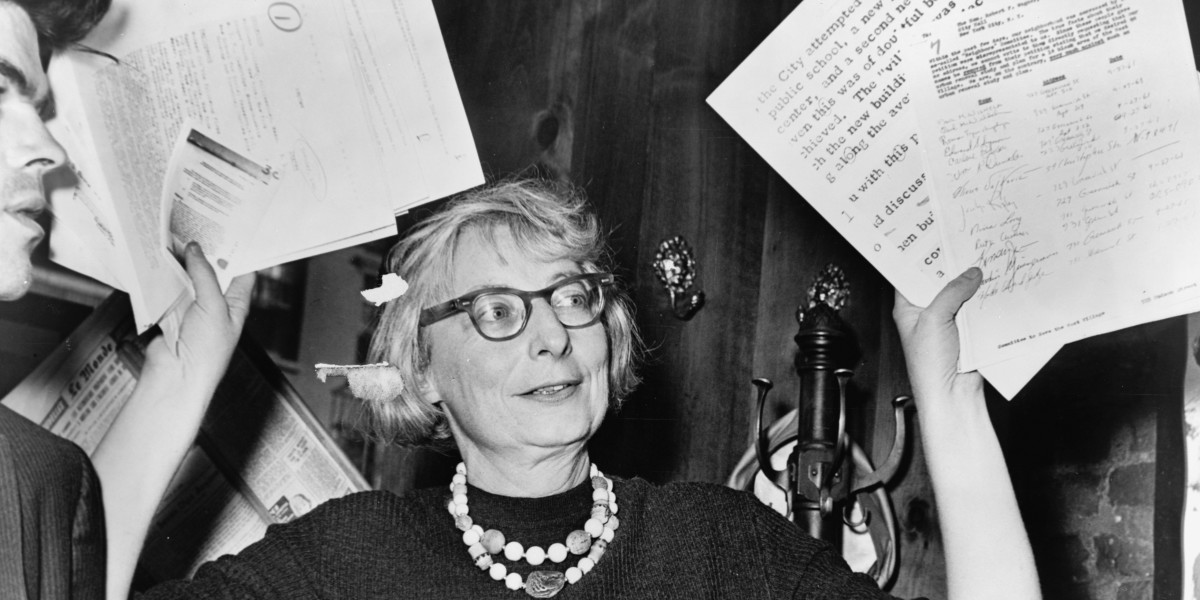 The world is urbanizing at an astonishing rate, and if we aren't mindful in that process, the results could be dire. So says Matt Tyrnauer in his documentary, Citizen Jane: Battle for the City. In order to present the debate of urban development, he focuses on the mid-century struggle between the "master builder" Robert Moses, who served as an urban planner in New York City, and Jane Jacobs, a writer and community organizer, who got in his way a lot. For Tyrnauer, they represent two poles in city planning: top-down versus bottom-up; abstraction vs evidence-based practice; the city as an object vs the city as an organism.
Moses comes from the modernist tradition. The thinking goes that in the modern age, with its technological advances, one might design a utopia of ideal, if uniform, housing for all citizens. Freeways need to cut through the city to provide mobility, but more units can be provided in skyscraping housing projects. Jacobs, on the other hand, argued that what appeared to be the messy, chaotic life on the streets was in fact a complex communal system. She claimed the neighborhood communities provided safety, child-care, entertainment, and social cohesion that would be eradicated with the destruction and construction of the sterile planes of modernist architecture. The documentary falls squarely on the side of Jacobs, and serves as the panegyric the title would suggest.
Tyrnauer does not push any stylistic boundaries in his delivery. Full of talking heads with academic credentials, and a couple biographers, this film seems destined for the high school classroom. It is a primer in two giants in the urban planning landscape not a debate of the finer points, and intentionally so. It does this job with polish and an abundance of historical material that must have been the result of a diligent research team.
Where it loses its footing is in its framing. It is bookended by a discussion of the cities that are being planned and constructed all over the globe today. New York of the 60s is treated as a case study of resistance, where Jacobs had a large part in maintaining areas like the West Village and Soho. As such, there is no space or time to touch on the hyper-gentrification of present-day downtown New York, nor can the audience link the New York of the past to the developing world of today. Cities are atomized and atemporal, living out a theoretical debate in urban planning.
Tyrnauer is diplomatic and eager to not offend, so he focuses narrowly and repetitively on his theme. This if fine, and his points are well made. But avoiding politics as adamantly as he does, creates a set of disjointed issues. Go ahead and talk about the consolidation of wealth, the global flow of capital, and racial hierarchies of power. Without this, you just have an overwhelming series of urban problems, with no end in sight. A game of whack-a-mole with grassroots organizers versus urban planners. Where's the battle cry in that?
For more information on Citizen Jane: Battle for the City click here.
---