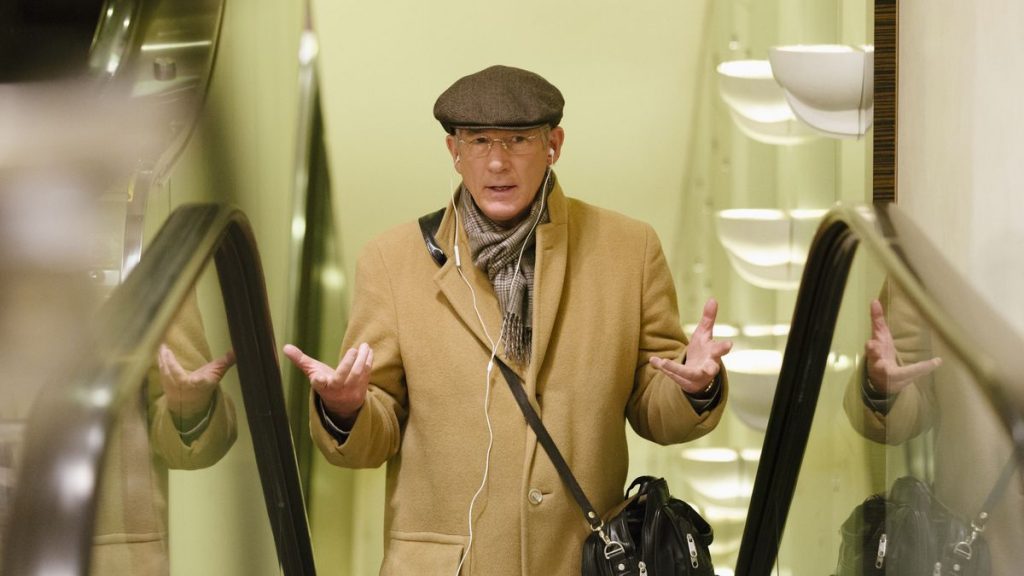 Joseph Cedar's first English-language film centers around the eponymous hero, Norman Oppenheimer. He is introduced as an amusingly grating New York schmoozer of limited success. Richard Gere, as Norman, is always ruddy-cheeked, trawling midtown, a peripatetic man of business without a place to stop and rest. He hangs onto his tenuous connections to big money partially through a semi-successful banking nephew (Michael Sheen) who metes out information and advice haltingly, but not cruelly, to his pushy, excitable uncle, and partially through sheer shameless hounding of any vulnerable crack in the colossal facade of the super rich and powerful.
Norman gets a break when he follows an Israeli deputy minister from a symposium, and strikes up conversation in front of a luxury apparel shop. Their first conversation is framed through the window, looking outward, with a pair of golden shoes in the foreground. The minister, Eshel (Lior Ashkenazi), is not too guarded, partially one can presume because he does not know the New York scene well enough to extract himself immediately from Norman, and partially because he is discouraged with his own career and happy for any company. Norman finishes by insisting on buying him a pair of shoes — a hefty though not astronomical gift — and thus the movie sets up an array of plot and thematic engines in motion.
Cedar says that this movie is partially a reworking of what he terms the "Court Jew" story wherein a Jewish man helps someone down on his luck who then subsequently comes to power. The newly powerful man awards the Jewish man accordingly, but once the newly powerful becomes subject to antagonism, he uses the Jewish man as a scapegoat. It's a formula which resonates with many mythic structures involving a hidden or lowly guest and a moment of generosity (though often with happier outcomes), from Greek mythology to Christian traditions as well. It shares that archaic narrative structure so resonant and deep, wrought over millennia, to suit itself perfectly to storytelling. It's a formula that cannot fail to deliver. Add on top of this the many implications of the shoes as the gift object both as symbol of personal responsibility ("what would one do in my shoes") and the ceaseless, exhausting striding of the unsuccessful. The movie operates perfectly, with inevitable and resonant crafting.
It seems unfair to complain about a plot working out too nicely, but at times, it was a little much. Hints of Norman's fate are tucked dutifully into the movie once every half hour. An early scene is played out again toward the end to redeem Norman's humiliation. One ends up wishing for more ambiguity, more gnomic pronouncements from his rabbi (Steve Buscemi). Norman is a movie about politics, big money, and ambition, but the very ease with which the plotline moves never forces us to question the underlying forces that drive it. Norman's fate spins round, but it would appear the center has no trouble holding.