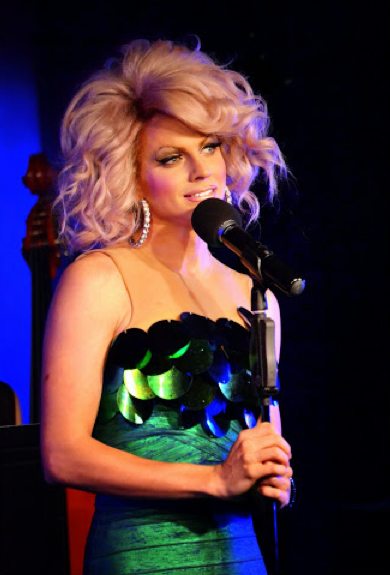 From the moment she steps onstage, you won't want to take your eyes off of Courtney Act for one second. Courtney Act, a drag performer who has appeared on Australian Idol and RuPaul's Drag Race, and played Angel in RENT, has brought a cabaret show to Manhattan for one month of performances. In true pop diva fashion, she is both funny and sultry, delivering lines with a perfect faux-naïveté and oozing camp. Her show, Boys Like Me, is a treatise on the fluidity of sexuality, filled with stories and songs about what happens when boys like her, and what it means to be a boy like her.
In Courtney's hands, songs like the Doublemint jingle and Wicked's "I'm Not That Girl" will never seem the same. She plays with lyrics, re-imagining "At the Ballet," for example, as a song about a fling with a U.S. Marine ("At the Valet"). Her act is very funny, but most of the over-the-top laughter comes not from the lines she tells, but the way she tells them. Her stage presence is easily the best thing about this show.
The Laurie Beechman Theater, a glitzy restaurant with a divine dinner menu and intimate seating, is the perfect venue for a show like this.  Courtney took advantage of the small room by doing some crowd work, having a conversation with everyone in the room. Too often, when performers talk to the audience it seems belabored, awkward, or worse, boring; but Courtney is so energetic and magnetic, and the venue so intimate, that she had the effect of being a very charming dinner guest, the kind that knows exactly what to say and never fails to pack a punch of laughter.
If you enjoy cabaret, go see Courtney while her show is playing in New York. You won't want to miss the chance to see this magnetizing, fascinating woman.
Performances of Courtney Act's Boys Like Me continue through August 21 at the Laurie Beechman Theater.  For more information, click here.