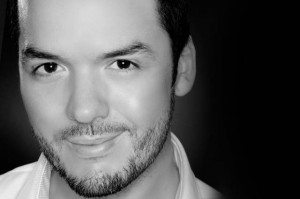 A recent one-nighter at 54 Below brought Australian performer (and a Bistro Award winner in 2001 and 2002) Kane Alexander back to Manhattan. He'd first appeared in the city a decade and a half ago. An appealing performer with bright eyes and a friendly, gentle manner, Alexander has had successful turns in musical theatre back in his home country. In this new show it was apparent that he is, perhaps above all else, an accomplished singing actor. What's more, he's highly versatile; his stage credits include such diverse titles as Urinetown, Anything Goes, and Les Misérables.
Alexander's eclecticism carries over into his cabaret singing. Someone listening to this program outside a closed door might have been surprised to learn that there weren't several fellows taking turns at the microphone. That he pulled off performances of songs associated with such disparate figures as Mario Lanza, Christina Aguilera, and Thornton Wilder's fictional character Horace Vandergelder underscored his credentials as a musical chameleon.
Supported by the sensitive playing of pianist and musical director Alex Rybeck, Alexander started the show with Billy Joel's slightly limp "Summer, Highland Falls"—not the most effective opener imaginable. He made a much stronger impression with his next selection, a pairing of "It's Been a Long, Long Time" (Jule Styne, Sammy Cahn) and "Just in Time" (Styne, Comden & Green). The latter selection allowed him both to swing and to get flirtatious with the audience. The lyrical sentiment of these songs alluded nicely to Alexander's absence from—and return to—Manhattan cabaret.
Throughout the rest of the program, Alexander (a self-described bari-tenor), gave the audience more pop-rock songs and more jazz-oriented licks. At other points his voice took on a resounding, quasi-operatic dimension, as in his "Lanza" number, "Serenade" (Sigmund Romberg, Dorothy Donnelly). At another point he went into full-tilt musical-comedy showstopper mode with "Penny in My Pocket" (Jerry Herman), a song cut from the score of Hello, Dolly! Any traces of curmudgeonly, Vandergelder-ish miserliness were erased from the song. Instead, Alexander made it an industrious (and opportunistic) young man's buoyant celebration of the magic of capitalism.
With so many different kinds of music presented and no thematic umbrella covering it all, Alexander's show might have come off as unwieldy. His between-song patter served—at least to some degree—as connective tissue to keep everything together. He spoke mostly of things autobiographical: his life growing up in a remote area of Australia, his growing aspiration to become a performer, and his affinity for New York City. It wasn't earth-shattering stuff, and it might have been more effectively realized. But his gregarious charm helped offset any deficiencies.
Two special guests joined Alexander at points during his set. The first was songwriter John Bucchino, who provided piano accompaniment on one of his compositions, "That Smile." The pulsing, kaleidoscopic arrangement of this song was irresistible, and Alexander rose to the occasion with his exuberant singing. I found this to be the show's most exciting turn.
Alexander's other guest was a fellow Australian: singer-actress Silvie Paladino. She performed on three numbers—two solos and a duet with Alexander—to great enthusiasm from the audience. The best of her selections was a full-tilt rendition of Boublil and Schönberg's "On My Own" from Les Misérables (English lyric by Herbert Kretzmer), on which she was both sensitive and impressively dramatic.
54 Below  –  June 1