Review: American Mill No. 2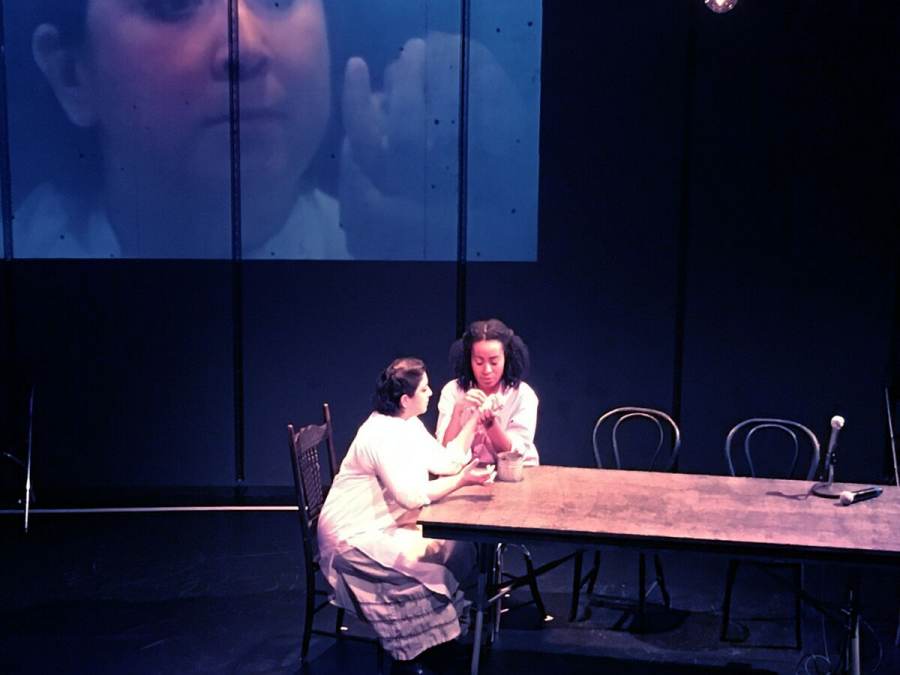 The threats plaguing the working class in 2017 are, unfortunately, as American as apple pie. For a nation founded on policies of liberty and justice, greed and exploitation run so rampant that the achievement of the former feels impossible. American Mill No.2, a new musical docudrama by Gian Marco Lo Forte and Pioneers Go East Collective, transports the audience to the Depression Era south, reminding us that our past can teach us plenty about our present.
Before Pete Seeger, Woody Guthrie, and Joan Baez, there was Ella May Wiggins. As a spinner at American Mill No. 2, long hours and dismal pay prompted this mother of nine to organize with the union. Famous for her poignant ballads illustrating the strife of the disenfranchised, Wiggins quickly became an icon for worker's rights, her songs a rallying cry. Wiggins lost her life to police brutality on September 14th, 1929, following a strike in Gastonia, North Carolina.
Using music, movement, and media, Pioneers Go East Collective attempts to preserve Wiggins' legacy in "American Mill No. 2." The score, composed by Kamala Sankaram, is by turns joyous and heartbreaking. When Sankaram sings as Wiggins at the beginning of the show, she is captivating. In stark contrast to the rabble-rousing musicality of the southern mill workers, the players recount historical anecdotes seated around a table. While this objective style of story telling is a benchmark of documentary theatre, these interludes feel at odds with the stomping solidarity of the music. The intermittent use of video recording, another docudrama favorite, drew this writer further from the world of the mill workers.
"American Mill No. 2" stays relevant to current events in one particular scene, where a mill owner's chastisement of his employees' resistance echos the rhetoric of a certain 45th President of the United States. However, there was another important correlation between then and now that was left unexplored by the piece. In addition to standing for workers rights, Wiggins was an advocate of an intersectional (though the word did not exist yet) class movement that unified African Americans with the White working class. Through the character of Eula (played by --Actor Name--), Wiggins' neighbor and babysitter, the show briefly touches on the presence of African Americans in the movement, and laments that their stories go untold. The disclaimer left this writer ever curious about the complications of real solidarity: a topic we ought to be speaking more on these days.
The questions raised in "American Mill No. 2" are essential to understanding our roles as American citizens. The story of the Loray Mill is a microcosm of American survival. Protest is about policies, certainly, but it's also about passion, defiance, and courage. The talented ensemble of Pioneers Go East gives us glimmers of that fire.