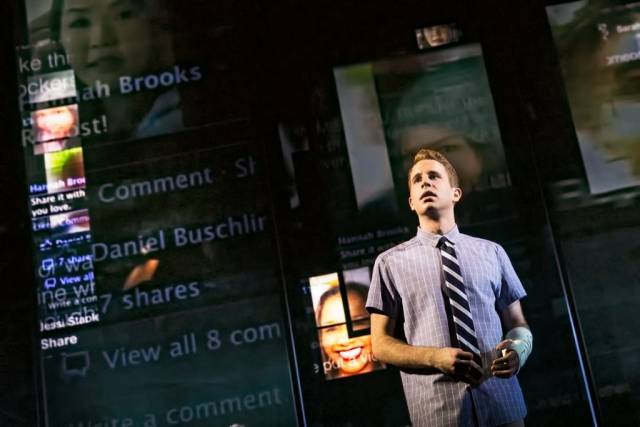 Heartbreaking tales of teenage angst have long been popular in every storytelling medium, and they're in no danger of disappearing soon. That only makes sense. If you can't identify with youthful characters that feel lost, confused and defeated, you're probably remembering your own adolescence though a much-too-rosy lens.
Broadway's Dear Evan Hansen, which previously enjoyed runs at D.C.'s Arena Stage and Off-Broadway's Second Stage Theatre, may not be art on a par with The Catcher in the Rye or A Separate Peace, but the musical takes the fears and pains of the high-school years seriously. Librettist Steven Levenson's scenario is engaging, once you've suspended your disbelief about its more implausible components.
Shy, tongue-tied, and virtually friendless student Evan (Ben Platt) writes letters to himself as part of the assignments he gets from his therapist. They're meant to be pep talks, but the one he writes after a particularly horrible day seems more like a cry of despair. The letter is snatched by an even more deeply troubled student named Connor Murphy (Mike Faist), who chooses to take his own life promptly afterward. When it's recovered, the letter is interpreted as Connor's suicide note, addressed to Evan.
Here's where the aforementioned suspension of disbelief comes in handy. Evan—because he feels so sorry for Connor's grief-stricken family (he happens to have a crush on Connor's sister, Zoe, played by Laura Dreyfuss)—begins to spin a tale. He claims to have had a secret friendship with the dead boy. Eventually he even winds up giving an inspirational tribute speech to Connor that shows up on social media, where it goes viral. Suddenly, Evan is no longer invisible—he's the Internet phenomenon of the week. (Of course, anyone can become famous overnight online, but I question whether someone as timid and asocial as Evan would have the capacity to set the gears in motion for that to happen.) In any event, holes in his fabricated story eventually become apparent. Cornered, Evan must decide whether to come clean about his big white lie.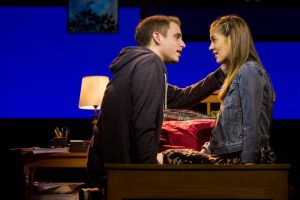 The director here is Michael Greif. He also directed Rent and Next to Normal, so he knows his way around angst-y musicals. He helps bring out some brighter undertones to the story during Act I, though the much-darker Act 2 at a certain point lapses into an unbroken orgy of tortured emotions. The songs, by Ben Pasek and Justin Paul, have the poppy-folky sound of a lot of contemporary musicals. To my ear, the best of the lot is the lively "Sincerely, Me." (Paul's musical arrangements go a long way toward making the score sound sharp.) David Korins's scenic design and Peter Nigrini's projections deftly stress the role cyberspace plays in the conflict.
The cast of seven does solid work. Dreyfuss, who has a lovely singing voice and a sweet affect, is one standout. Another is Will Roland, as Jared, Evan's cynical and opportunistic "family friend." Rachel Bay Jones has some strong musical and dramatic moments as Evan's mother, Heidi.
The real triumph is Platt's as Evan. His singing voice is assured, he's emotionally connected at every moment, and he make acting choices that seem risky—even treacherous—but that pay off nicely in the end.