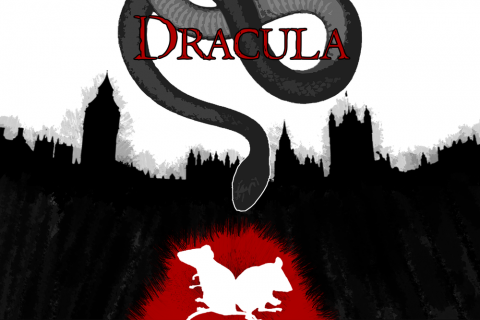 Despite its uncontested standing as the ultimate vampire story and a classic horror novel, Bram Stoker's Dracula contains very little outright blood and gore. It's implied, for sure; but other than the scene in which Jonathan Harker accidentally cuts himself while shaving, there's very little "onscreen" blood, as it were. Dracula is less about graphic horror and more about mysterious, atmospheric horror -- even venturing into psychological terror in a few places, such as with the mental patient Renfield, and Lucy's and Mina's inner struggles against the influence of evil. It's probably this atmospheric, psychological terror that's gained Dracula its current standing as a monumental work of horror.
The performance of Dracula currently playing at the Morris-Jumel Mansion (directed by Vincent Carbone, script by Steven Dietz) takes its cue from this quality of Stoker's classic novel. Unlike most vampire flicks, this production features absolutely no visible blood and gore. Instead, it relies on atmospherics and a tight character focus to recreate the sense of Gothic horror inherent in Dracula. In a way, it's a daring approach; but because of this production's perfect casting and strongly present setting, Carbone's take works beautifully.
For one thing, Oscar Pavlo is such an incredibly perfect Dracula that I wouldn't be at all surprised to learn Carbone imported him straight from Transylvania (though I'm sure that's not the case). Towering over the other cast-members, with a thick Eastern European accent, he no sooner steps into a scene than you feel a chill in the air.
Then there's Michael Abbate's Renfield: gloriously demented with an edge of sanity that begs the question -- is he really as insane as Dr. Seward claims he is? The fact that Renfield is the only character to directly address the audience only complicates this question.
Ninoshka De Leon Gill's Lucy also comes off especially strong: motivated by an inner passion that seems almost beyond the accepted bounds of Victorian decency, gorgeously languishing, and chilling after her dark transformation.
But all this might only make for a dark period drama without the added element of this production's setting. However it may appear by day, the historic Morris-Jumel Mansion by night, with its looming columns and empty yard surrounded by a high black gate, is the picture of a creepy house a la The Haunted Mansion or Psycho. Thanks to the production team's decision to illuminate the theatre space mainly by candlelight, the phantasmagoric effect is complete.
An intimate staging seats the audience (only 22 people per performance) close-up to the action, with seats on both sides of the playing floor. The performance itself takes place in the Mansion's Octagon room, which assumes an understated terror in the low lighting.
The upshot is, if you're looking for a deliciously creepy yet tasteful horror experience for Halloween -- and especially if you're fond of Stoker's novel -- you can't do better than this splendid embodiment of the ultimate vampire tale.