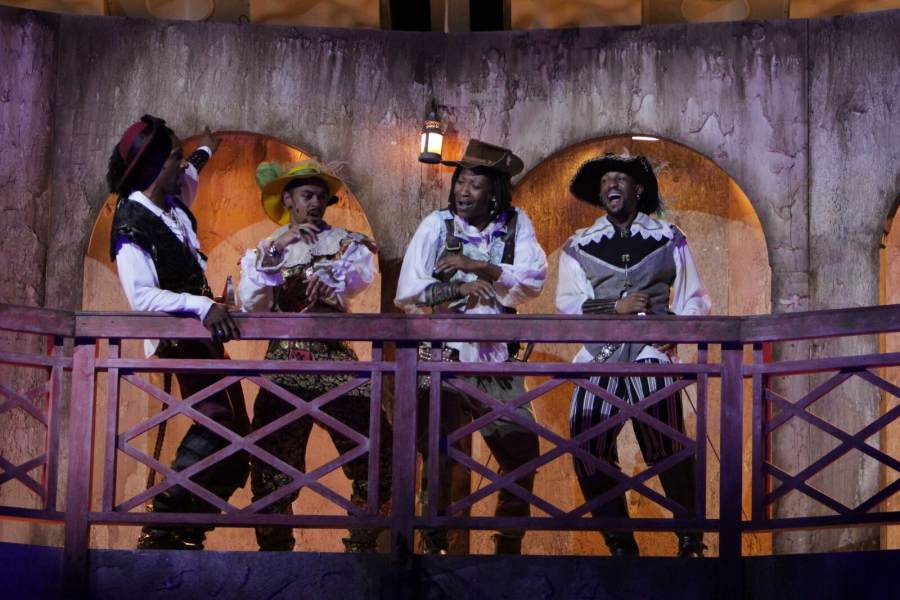 The story of The Three Musketeers has been adapted innumerable times for both the stage and screen, with varying degrees of success. Some productions veer so far from Alexandre Dumas' original novel that it seems doubtful the production's writers actually read it. Many adaptations succumb to silliness; others try to play up the story's melodramatic elements for a more serious tone. Few seem to capture the spirit of Dumas' story - so well-loved since 1844 - which successfully blends silliness and solemnity, pleasure and peril.
Happily, Catherine Bush's adaptation of The Three Musketeers seems to grasp that the true greatness of this timeless tale lies in its combination of lightheartedness and gravity. Directed by Jenny Bennett for The Classical Theatre of Harlem (at Marcus Garvey Park), this newest production of The Three Musketeers stays refreshingly true to Dumas' story without sacrificing dramatic integrity.
For anyone needing a refresher on the story: it mainly involves intrigue, deception, romance, and a good deal of swordplay. Of course, there's a young hero eager to prove him (or her) self, a trio of larger than life musketeers who lend the story camaraderie and panache, and a treacherous Cardinal bent on destroying all who oppose him - which includes the Queen of France. Of course, the young hero saves the day and good ultimately triumphs over evil, though not without sacrifices.
A few changes have been made simply to cut down on time (it's a long book), and spice up the traditional formula. The biggest change may be that D'Artagnan (our hero: stubborn, fearless, and fiery) is now a girl. That girl is Miriam Hyman, who plays D'Artagnan with determination, and in doing so, largely carries the play. Aiding her in this feat is Piera Van de Wiel, who plays as smooth and as treacherous a Milady de Winter as you could ever hope for (and greatly outshines Milla Jovovich's performance in the 2011 movie). Also noteworthy is Anthony Merchant, whose King Louis is simply hilarious.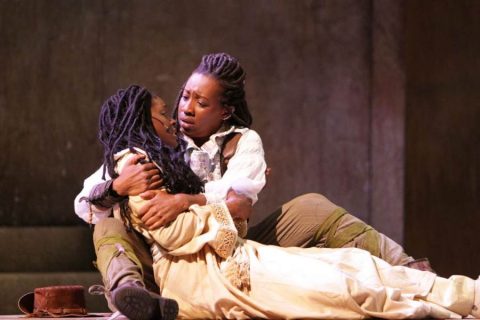 The nature of the story is such that, if you've got good actors in the roles of D'Artagnan and Milady, then you've basically got a play. Accordingly, the other cast members all give fine performances, but it's Hyman's furious strength and Van de Wiel's elegant wickedness that make this production truly delightful.
With a fine set, variegated costumes, and excellent swordplay (choreographed by Emmanuel Brown), this production offers everything audiences have come to expect from an adaptation of The Three Musketeers. Live music and a supporting ensemble of dancers greatly help in moving the action along and keeping up the story's constant flow of action. (In fact, the ensemble and costumes have a bit of a Great Comet vibe, which is by no means a bad thing.)
With a clever script, good actors, and a flamboyant staging, the only thing that could make this fast-paced production more fun would be free admission. And mon dieu! It has that, too! So saddle your steed and get ready to shout "All for one!" etc. ad nauseam.