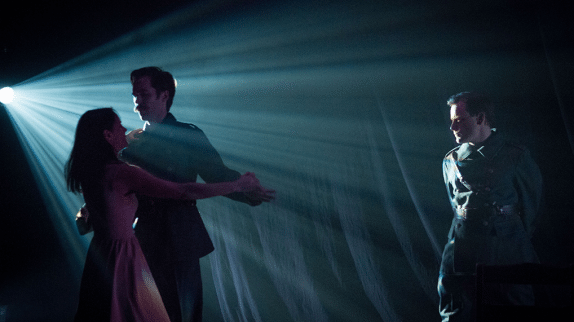 For more than 100 years, the public has had a fascination with femme fatale Mata Hari, an exotic dancer, professional paramour and perhaps a double agent for both France and Germany during World War I.  There is the iconic 1931 movie starring Greta Garbo, several musicals, recent novels and now a new chamber opera, Mata Hari, written by composer Matt Marks and librettist Paul Peers, who also directs the piece.  An intriguing exploration of the woman behind the legend, Mata Hari is having its world premiere at HERE as part of the Prototype Festival's 5th season and was developed through the HERE Artist Residency Program.
Mata Hari was born Margaretha Geertruida Zelle in Holland in 1876.  She married at 19 an abusive Dutch Army Colonel stationed in Java (now Indonesia), had two children (her young son died tragically) and to distract herself from her unhappiness began to study Indonesian cultural and dance.  After several years, the marriage dissolved and Margaretha moved to Paris to re-invent herself as Mata Hari, a Javanese princess steeped in erotic Hindu temple rituals dancing in jeweled bras and sheer silks for a wealthy European audience craving anything "Oriental".  Understanding her public's desire for sensuality coupled with an aesthetic salaciousness, Mata Hari created her unique artistically elevated strip tease, often ending her performances nude from the waist down.  She posed for many provocative photos and had numerous affairs with powerful men in high places in the military and governments adding to her fame and mystique.  As she got older, her popularity waned and she fell in love with Vadime, a young Russian soldier almost half her age, partially blinded while fighting for the French army.  Her priorities changed and she sought ways to make money that would allow her to take care of Vadime; opportunities arose for her to use her pillow talk talents for spying (her code name was H-21), but these opportunities also set in motion her demise.  Mata Hari claimed she was never a professional spy living only "for love and pleasure".  But she was tried and executed for espionage on October 15, 1917 by a firing squad outside of Paris after being imprisoned for 8 months.
There are challenges in presenting historical material, and Mr. Marks and Mr. Peers have made some fascinating choices in their non-linear telling of the story of Mata Hari, putting an emphasis on her relationships and the dangers of being a sexually free, promiscuous woman in a patriarchal society.  They've juxtaposed text with music by making Mata Hari a non-singing role, melded sung dialogue with dance steps and effectively used Neal Wilkinson's brilliant set design to imaginatively move the action forward and backward in time and space.  Mr. Wilkinson has swathed the wide stage at HERE with long strips of hanging diaphanous material echoing Mata Hari's costumes, and Mr. Peers and choreographer Anabella Lenzu use these moveable fabric pieces to suggest lavish turn of last century ballrooms or an interactive prop for Mata Hari's final dance.  Mr. Wilkinson has also divided the space with sheer curtains, which are opened or closed to create a prison cell, a hotel room or a rendezvous point and create a wall for evocative video designed by David Jonathan Palmer.
Mata Hari opens with a chilling scene behind these gauzy curtains; in full regalia of headdress and jewels and surrounded by a male chorus of five excellent singers, Mata Hari, played with determination and vulnerability by actress Tina Mitchell, stands stark still as the men begin dismantling her costume piece by piece until she is stripped down to a short flesh colored chemise. She shivers in a cell in the women's prison of Saint-Lazarre awaiting execution, her only support being a somewhat enigmatic character, Sister Léonide, sung with an earnest warmth by soprano Mary Mackenzie.  Ms. Mitchell handled the poetic text with a wide eyed expressiveness, delving below the famous persona to access the inner girl looking for approval from older powerful men and desiring their gifts.
Mr. Peer's libretto reveals Mata Hari's story in flashbacks, from her early marriage and her enchanting manipulation and attraction to men in uniform to later in life falling in love with Vadime, a man half her age.  Tomás Cruz, who possesses a glorious countertenor range floats effortless high notes as he sings of love, gives Vadime the right boyish quality of a man infatuated with a legend. The bulk of the 90-minute opera is given to Mata Hari's interactions with the men who lusted for her, loved her, set up her missions, betrayed her and interrogated her; these roles are sung with conviction and resonance by baritones Jeffrey Gavett, Daniel Neer, Joshua Jeremiah and bass Steve Hrycelak.  The deep sonority of a quartet of baritones and a bass is a voicing not often heard in contemporary opera, giving an appropriate priapic subtext to the musical story.
Four talented musicians conducted with precision by David Bloom, violinist Helen Yee, pianist Mila Henry, electric guitarist James Moore and Kamala Sankaram on accordion, played Mr. Marks' adventurous and eclectic score with passionate perfection, conjuring an era of decadence and dominance.  Especially effective were well placed violin glissandos, the sighs of the accordion and, in particular, loud rock riffs on the electric guitar as Mata Hari's defense against the accusations of spying disintegrates.  This shattering music evokes the chaos of a brutal war and the mad desire to find a scapegoat for distraction.  The opera Mata Hari is a welcomed addition to our continued obsession with this iconic historical figure and kudos to Prototype and HERE for nurturing and developing this new music theater piece from workshop to production.