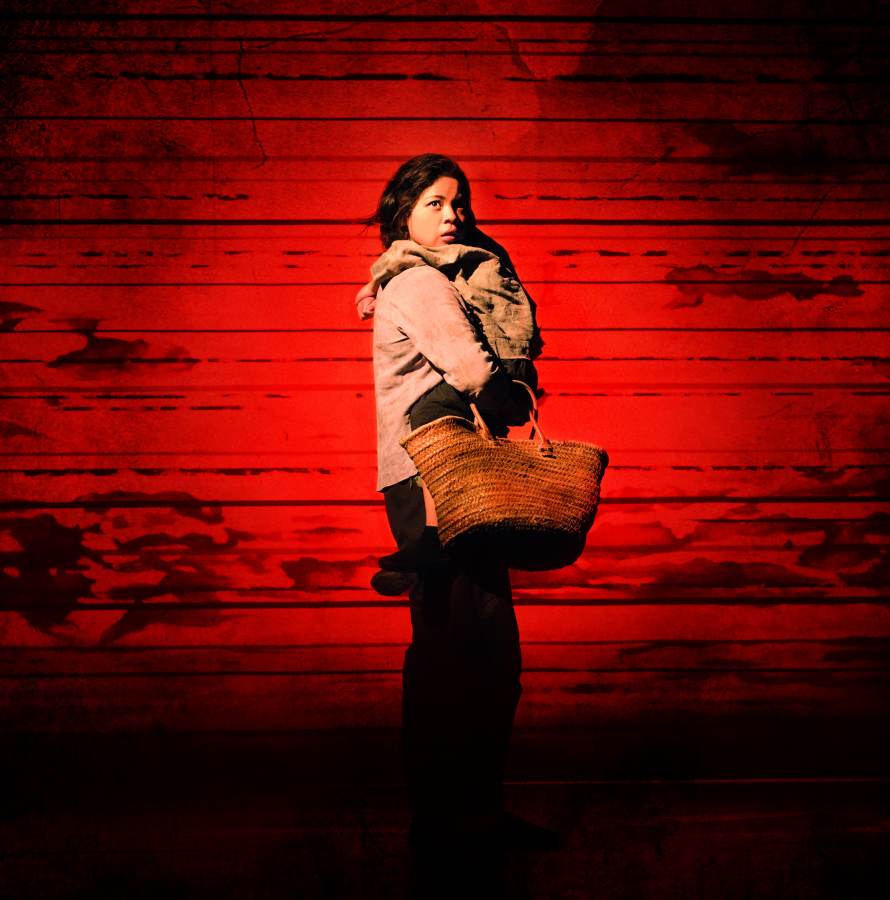 The current revival of Miss Saigon marks the triumphant return of the hit musical to Broadway, transplanted from a successful West End revival. The beloved show, written by Claude-Michel Schönberg and Alain Boublil, with lyrics by Boublil and Richard Maltby, Jr., features spectacular set design (Totie Driver and Matt Kinley), costumes (Andreane Neofitou), lighting (Bruno Poet), choreography (Bob Avian and Geoffrey Garratt), and musical direction (James Moore). Stunning performances from the entire cast, under the helm of director Laurence Connor, make this revival pure Broadway joy.
Based on Puccini's opera Madame Butterfly, Miss Saigon is set in Vietnam during the U.S. invasion right before the fall of Saigon in 1975. An opportunistic French-Vietnamese hustler called The Engineer (the amazing Jon Jon Briones) runs a Saigon bar/brothel called Dreamland that is popular with the American soldiers. Kim (impressive newcomer Eva Noblezada) is a young woman from the countryside -- where she lost her entire family from U.S. strikes -- who comes to Saigon to reluctantly work as a prostitute. Modest and virginal, Kim will fetch a good price for The Engineer, and he is eager to pawn her off to the highest bidder. She is eventually bought for the night by John (Nicholas Christopher), a G.I. who gifts her to his friend, U.S. Marine sergeant Chris (Alistair Brammer).
This premise spawns a tragic love story that forms the basis of the play's narrative. But there is more going on than just a simple love story. The effects of the U.S. war in Vietnam, and how it tore the country apart, are tangibly felt. John, the marine who originally joined Kim and Chris together, three years later runs a humanitarian organization that helps Vietnamese street children (Bui-Doi) fathered by Americans during the war and left behind. This factors significantly in the arc of the story.
Another major theme is the perception of America as the land of opportunity. Throughout the show, we see the desperation of many Vietnamese to get out of their war-torn country and be embraced by America. The ideal of the American Dream is most exemplified in the character of The Engineer, who believes America is where he belongs. These people, who truly want to be good, hard-working Americans, are continually denied the chance at every turn. This is a particularly timely subject in our current political climate with the plight of immigrants in our country.
Politics aside, the performances are the beating heart of Miss Saigon, and there are some impressive talents in this cast. Foremost is Noblezada, who infuses Kim with such heart-wrenching emotion, it's hard to believe she is only 21 years old. She brings a complexity to a character that could easily be one-note. The chemistry between her and Brammer is so palpable, you forget the characters have only known each other for mere hours when they fall in love. Special mention must be made to Rachelle Ann Go, who plays Gigi, Dreamland's Miss Saigon who goes from sex kitten to desperation in the bat of an eye. But the real power player is Briones, who somehow elicits compassion for an unsympathetic character with all The Engineer's machismo and sleazy manipulation.
There is no doubt this revival of Miss Saigon is a hit. With a top-notch cast, dynamic visuals, and a story that speaks to the complexities of the American Dream, this classic will definitely be beloved by a new generation of theatergoers.