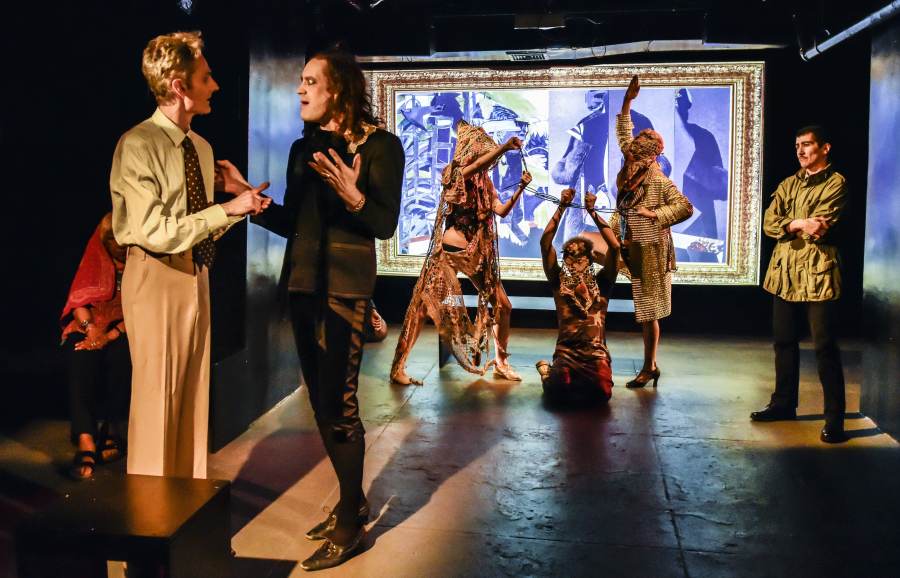 On his website, pastiche playwright Charles Mee says describes his characters as "people through whom the culture speaks, often without the speakers knowing it." The New Stage Theatre Company celebrates their new 106th Street home, the New Stage Performance Space, by inviting audiences in for their production of Mee's play The Rules.
The new space, tucked away in the basement of The Jazz in the Park Hostel, is evocative of opening night at an art gallery. A gilded frame is projected on the far back wall. A Siri-esque voice periodically rattles off etiquette tips for polite society. While the waiting audience is first advised to write a guest 48 hours after their soiree, the words of advice quickly turn wry. The projection states, "the well- reared child questions authority," and it's clear that while we're still with Mee, we're somewhere else entirely, too.
In this adaptation, the New Stage ensemble, under the direction of Artistic Director Ildiko Nemeth, unpacks the constraints and constructs of post-election American society in 2017. While Mee's original text questions the so-called guidelines we humans invent in order to elude bigger existential woes, Nemeth takes this exploration in an exciting new direction. For the past year, all Americans were forced to consider their positioning with regards to social capital, the carnage of capitalism, white supremacy, and misogyny. The beauty of this adaptation lies in its balance between harrowing truth moments and fierce tenderness. The ensemble delivers a cynical smirk, followed by a real plea for complicated, serious human connection: you know, the kind that builds movements.
Oddly enough, this writer finds it difficult to discuss the play at length without giving away a moment better left unspoiled. Suffice it to say that if you're feeling helpless, confused, and alone in light of recent events, grab a seat at New Stage's 106th Street performance space. Prepare to feel confused, curious, and utterly understood.