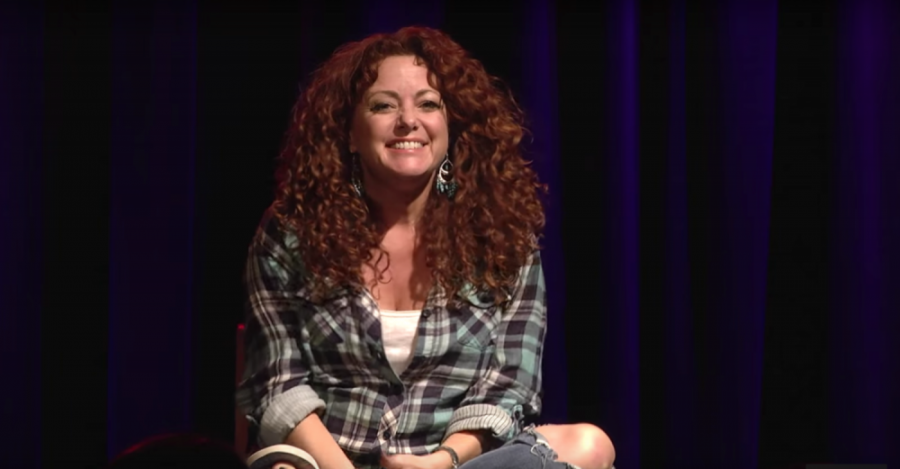 The first thing I can say about the ingeniously funny Small Town Confessions is summed up in three words: Phil Geoffrey Bond. Both the playwright and one of the actors in the production I saw at at the Broadway Bound Theatre Festival, Bond creates a world somewhere between Del Shores' Sordid Lives and David Lynch's Twin Peaks. As one of the characters of the town Anitola Parish confides, "I can swear I shift into another universe...a different dimension..."
Sally Mayes shines here as our mistress of ceremonies, JoBeth Maybelline. Always great fun to watch, Mayes invites us right in to her nail salon and with infectious glee; she's intentionally frank and disarming, making the whole evening a giddy, thrilling romp.
Sam Smith, played by the uber-energized and compelling George Kimmel, takes us on a journey through his long night of Louisiana night stalking. Sam has seen an alien invasion. Unfortunately, during the melee, Sam's dog was inadvertently scooped up and whisked off to either the CIA, or outer space. Sam's pining for the return of his pup is charming and quirky and absurd, but somehow mysterious and wonderful, too, as he searches the night sky in vain.
Sharon McNight stole the show the night I was in attendance as Doris Kitteridge, the town matriarch. (This was not a small feat: the cast was first rate all around.) Wearing her prominent status in the community like an army sergeant's badge of honor, stalking back and forth across the stage, she's thrilling and funny and truly heartbreaking as she admits her failings as a close friend to JoBeth Maybelline. The audience (myself included) howled at her comic timing; she held us in the palm of her hand.
As Roger Wilkins, Phil Geoffrey Bond makes us laugh and mourn for his character in equal measure. I will reveal to you that Bond's character has an obsessive crush on Ms. Diana Ross. Here, Bond's storytelling resonates with anyone who has come to the world of theatre, or to a big city to find excitement and solace. It's lovely work from this talented writer/actor.
Special kudos to Alice Ripley, who audiences know and love from her many Broadway successes, and here in Anitola Parish, she doesn't disappoint. Her Juliet Monsignor's dazzlingly unfettered monologue (regarding her marriage to Satan himself) lets us know that as Juliet, she's in charge here, she's no damsel in distress.  Ripley delivers a lot of steel-magnolia-determination and firepower and the audience basked in its glow; whether laughing or emitting shocked guffaws of surprise, we were all on the edge of our seats.
Kelli Rabke as Mrs. Betsey Ratcliff is a sweet and poignant stay-at-home Mom with big city dreams. Her acting and singing are first rate. Tyler Whitaker is terrific, funny, and perfectly off-kilter as William Curtis Jr. III, a high-voltage Broadway baby with an obsession with Wicked that borders on mania. Jeff Tuohy, a fine, committed actor who is unafraid to go the distance, gives a complex and engaging turn as Tito Watts. And Daisy Eagan (another wonderful talent who's also a Tony winner) breaks our hearts as a small town girl who loses her way when given too much attention and not enough "say in things".  It's a strategically placed performance and Eagan really takes us on a journey.
The clear, precise direction by Stephen Nachamie cohabits beautifully with Bond's writing. Nachamie's work is sagaciously paced and well-staged, lighting, sets, projections and costumes inform the story telling with bright, engaging wit.
If you are ever given a chance to enter Anitola Parish, please sit a spell, sit back and listen.  You'll get an earful, I reckon!