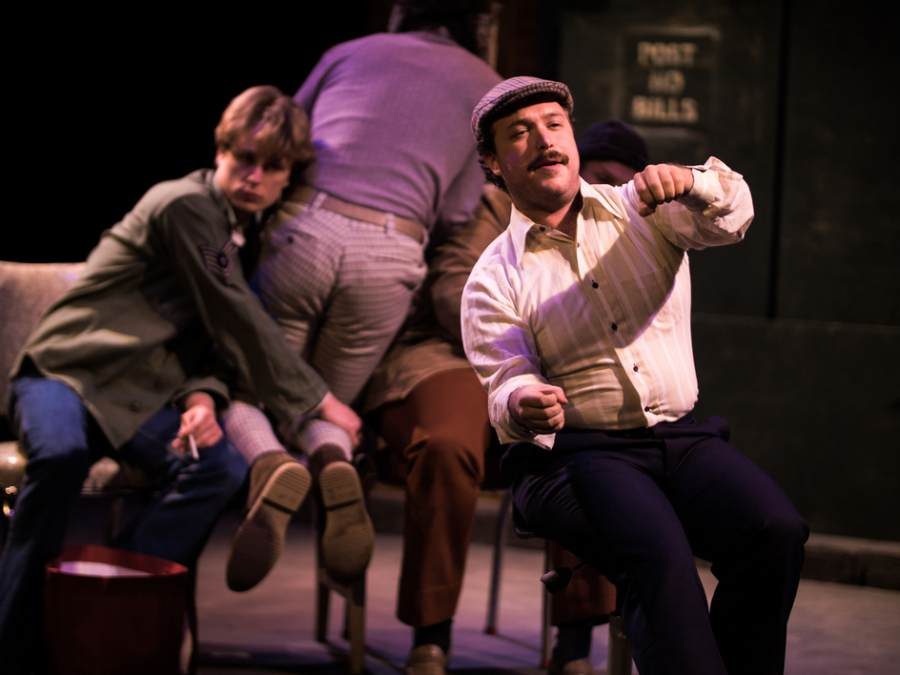 A cheeky little time capsule from 1971, The Workshop Theater's revival of Where Has Tommy Flowers Gone? provides glimpses of the loose, inventive spirit of the youthful Terrence McNally. It's a play about America (and about New York City) at a time before the politically roiling 1960s gave way to the disco-ball swirl of the later 1970s. The spirited production, directed by Laura Braza, invokes a Manhattan that's partly the one you saw in Midnight Cowboy and partly the one you recall from That Girl and Odd Couple reruns. McNally's Manhattan has some mean streets, but they've got their sunny sides.
At the heart of the story is the titular Tommy (David Gow), a fast-talking—and much-talking—30-year-old scam artist from St. Petersburg, Florida, who has found himself homeless on the seedier stretches of Times Square. (Zach Serafin's effective unit set is strewn with refuse and papered with peep-show signage. Supertitles with the names of the play's episodes appear on a porn-theater marquee with a couple of burned-out bulbs.)
"The point is—get it while you can." That's Tommy's credo. And he has perfected ways of getting it without paying a cent. Tommy is full of contradictions. On the one hand, he's a self-proclaimed optimist. "What else could I be? I'm an American," he says, and you're not sure how ironic he's being. He's simultaneously taken with the idea of blowing America to smithereens, and he has gone so far in that line as to study the art of bomb making. Eventually, he finds refuge in the apartment of a young violist from Tampa named Nedda Lemon (the charming Emma Geer). He brings in tow a hopeful/sad dog named Arnold (Sam Garber) and an aging, avuncular actor named Ben Delight (the very fine Daniel O'Shea). A family unit of sorts is formed, but it can't last. Nedda wants respectability, which is one thing Tommy can't talk (or charm, or steal) his way into providing for her.
The play is, in some ways, a long monologue interspersed with dramatic scenes. There are also a few fantasy sequences—including one in which Tommy imagines himself as James Dean and another in which he becomes Marilyn Monroe. Through all of this, Gow is great fun to watch. It's a flashy and challenging role, and the actor explores effectively all the nooks and crannies of Tommy's jumbled psyche. Gow shows us the part of Tommy that revels in mischief and mayhem. But he also gives us the part that realizes, with some alarm, that he will never be capable of leading an authentic life. When all is said and done, he's little more than a liar and a lout. So, yes, why not blow some shit up?
Along with Tommy and the other principal roles, there are numerous smaller parts, played here by three actors: Al Fallick, Emily Kitchens, and Noelle Franco. All three have their moments to shine, but Fallick shows an especially wide range, portraying (among other characters) Tommy's pot-puffing young nephew, his sad older brother, and a cab driver who seems never to have learned how to apply the brakes without giving his customers whiplash.